Stripe, the online payments platform and financial services company, today shared a sneak peek of Radar Assistant, an exciting new feature coming to its fraud prevention tool, Stripe Radar.
Currently in private beta testing, Radar Assistant uses OpenAI's GPT-4 to enable businesses to create complex fraud prevention rules simply using natural language. It is an intuitive, user-friendly upgrade that minimizes the technical expertise required to operate the tool effectively. Stripe's AI instantly interprets instructions and automatically generates the required code.
Launched in 2016, Stripe Radar has become an indispensable shield for many enterprises against online payment fraud. It assesses more than 1,000 characteristics of a potential transaction to determine its legitimacy, all within a remarkable 100 milliseconds. This is possible because of the advanced machine learning techniques that Stripe uses and the pure-DNN architecture that it migrated to in mid-2022.
Drawing on its extensive network of global businesses, Stripe has trained Radar with hundreds of billions of data points from transactions across 197 countries, across various industries and business models. This breadth has given Radar a distinct edge, enabling it to map comprehensive customer paths and detect anomalies, assigning risk scores to every transaction and automatically blocking many high-risk payments.
The new natural language capability that GPT-4 provides promises to vastly expand access to Radar's powerful rules engine, which businesses can use to customize Stripe's machine learning-based fraud screening system. Rules provide precision control over which payments are automatically approved, reviewed, or declined.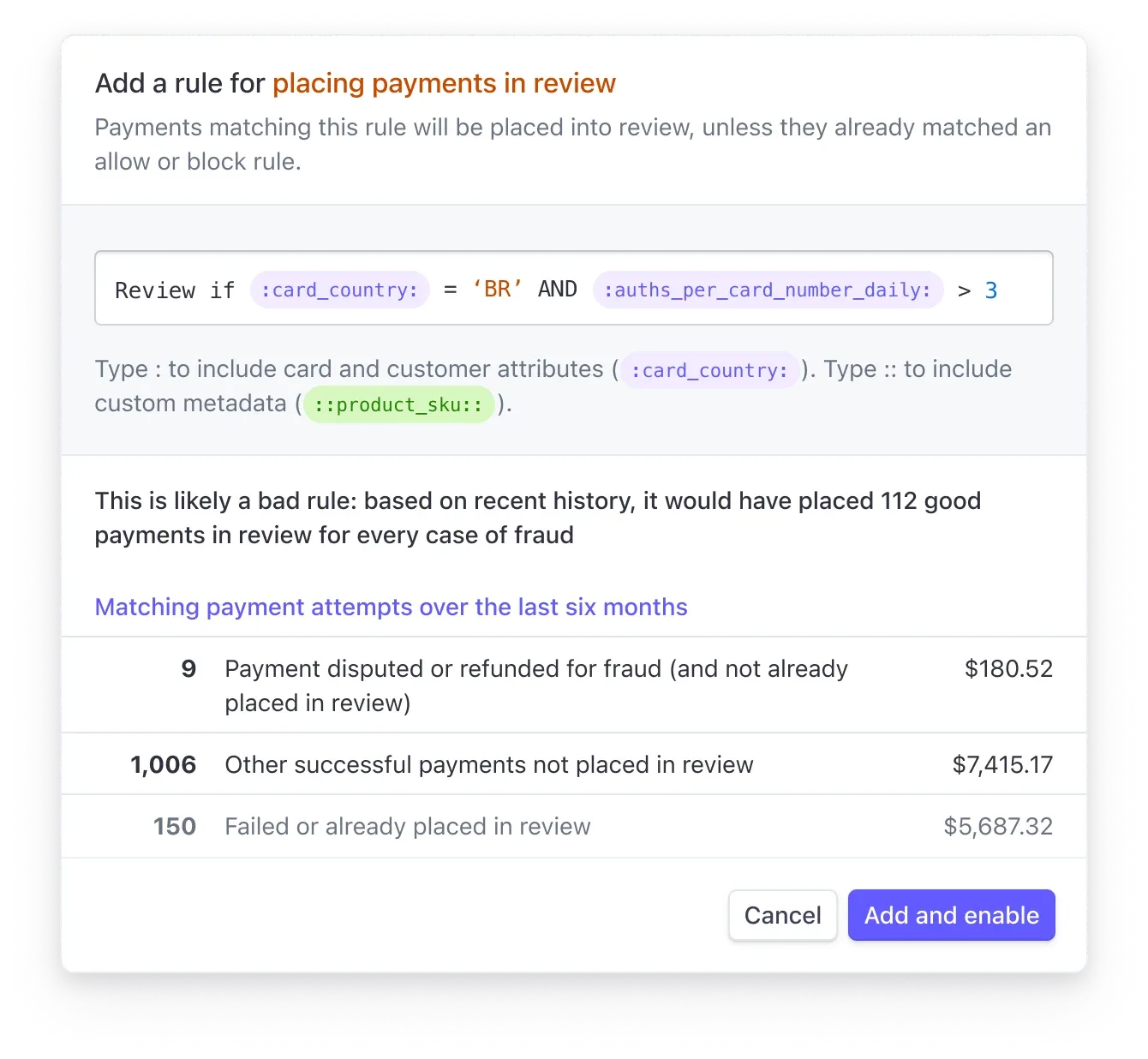 In the current version of Stripe Radar, creating rules for fraud prevention requires familiarity with a language similar to SQL and an in-depth understanding of a dense body of documentation. That technical barrier means using rules is out of reach for many users.
The advantages of the new generative AI features are two-fold. On one hand, it democratizes the use of advanced fraud prevention techniques by lowering the technical proficiency required for use. On the other hand, it potentially increases the diversity and complexity of the rules applied, as users engage with the system in more intuitive, flexible ways.
Businesses already using Radar for Fraud Teams that are interested can sign up for early access to the Radar Assistant beta.