Seoul-based AI chip startup Rebellions Inc. is in talks with global investors to raise around $100 million in Series B financing, according to people familiar with the negotiations. The new funding could value the 3-year-old company at over $500 million.
Rebellions aims to use the fresh capital to expedite development of its next-generation AI chip, codenamed "Rebel." The chip startup is meeting with venture capital firms in Japan, Hong Kong, Singapore, and Europe as it seeks to close the fundraising round before the end of 2023.
Rebellions is riding a wave of surging interest, and investment, in AI chip startups following the release of ChatGPT by OpenAI last November. ChatGPT vividly demonstrated the transformative potential of large language models, spurring a race among AI chip developers to create optimized hardware for running complex AI services.
Earlier this year, the company launched its ATOM AI chip and submitted very strong results to the MLPerf inference v3.0 benchmark, demonstrating its versatile yet extremely low latency core architecture.
Last month, Rebellions announced a partnership with IBM to test the quality and performance of ATOM chips at IBM data centers. Mass production of the ATOM chip with Samsung's 5-nanometer foundry technology is expected to begin in the first quarter of next year.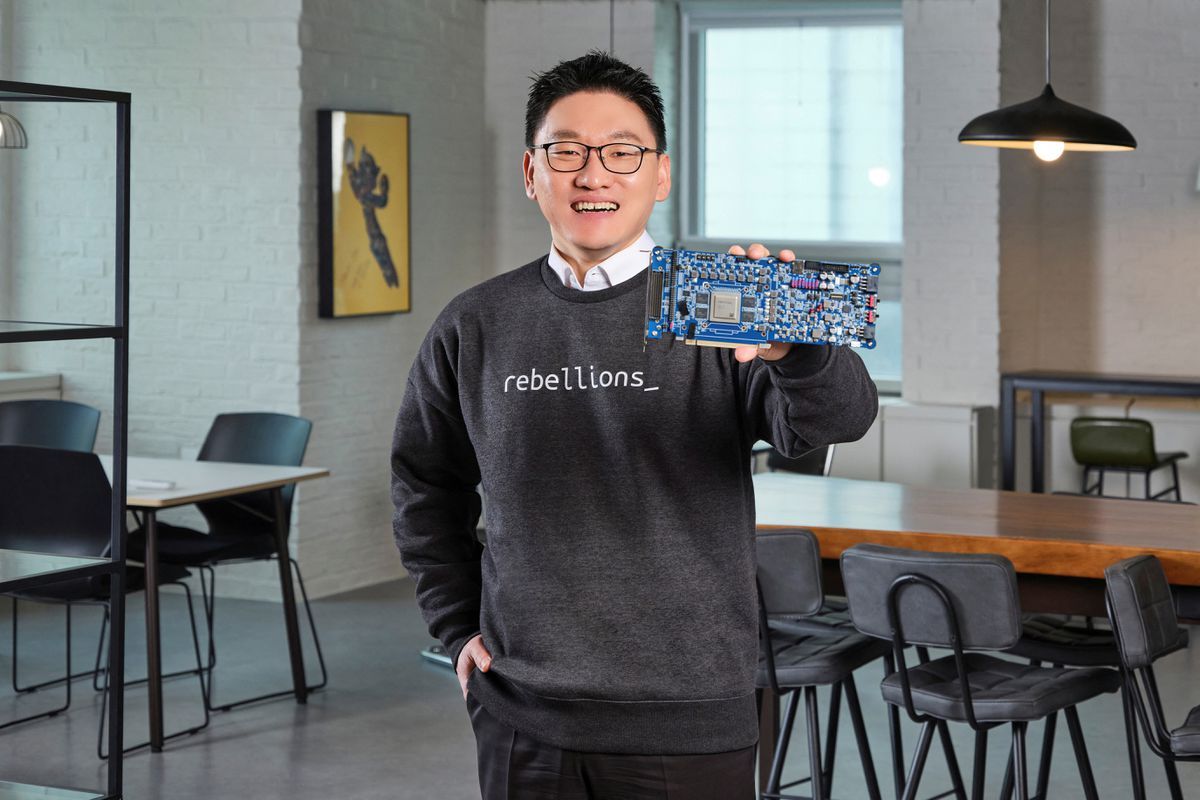 Rebellions faces competition from both startups like Kneron and Tenstorrent and established giants including NVIDIA. However, the Korean firm believes its Rebel chip can achieve breakthrough performance in accelerating specialized AI workloads like computer vision and natural language processing.
The company has already secured backing from major Korean corporations and investors. Its investors include top Korean wireless carrier KT Corp, state-run Korea Development Bank, internet firm Kakao, and Singaporean investment firm Pavilion Capital.
Rebellions is also tapping into support from the South Korean government, which has pledged over $615 million through 2030 to nurture domestic AI chip startups. Government funding aims to help Korea foster an AI chip industry to complement its leadership in memory chips.
Rebellions will rely on Samsung's advanced 4-nanometer fabrication technology to manufacture the Rebel chip. The startup believes its architecture and Samsung's cutting-edge process can deliver sizable gains in power efficiency and performance versus alternatives.
Despite heightened competition, the AI chip market's massive growth potential continues to attract new entrants. AI chip revenue could expand from $7.7 billion in 2021 to $75 billion by 2027 per Allied Market Research. Rebellions will now look to augment its technical prowess with a strong war chest, hoping its Rebel chip can stake a claim among giants like NVIDIA.
With AI now permeating diverse segments from data centers to autonomous vehicles, investors are betting specialized AI chips will dominate over general-purpose graphics processing units. Rebellions' ability to ship Rebel chips to customers will determine if the Korean underdog can fulfill its outsized ambitions.