Chinese artificial intelligence startup 01.AI is making waves this week with the release of its open-source large language model, Yi-34B. Within just eight months of its founding, the Beijing-based company has reached unicorn status with a valuation of over $1 billion after a recent funding round.
The brainchild of renowned computer scientist Kai-Fu Lee, 01.AI aims to develop AI systems tailored for the Chinese market. This places it in competition with other homegrown companies trying to establish China's own versions of models like OpenAI's ChatGPT.
According to Lee, necessity drove 01.AI's innovation in the face of limited access to systems from Google, OpenAI and others. "I think many doing LLM are trying to do their part in creating a solution for a market that really needs this," he said.
The Yi-34B model from 01.AI is a bilingual English/Chinese model developed fully in-house by 01.AI researchers. It contains 34 billion parameters and is trained on a dataset of 4K sequence length, expandable to 32K during inference. Benchmark results show Yi-34B achieves state-of-the-art performance compared to other open source models like Meta's LLaMA, particularly in areas like reading comprehension, common sense reasoning, and math/coding tasks.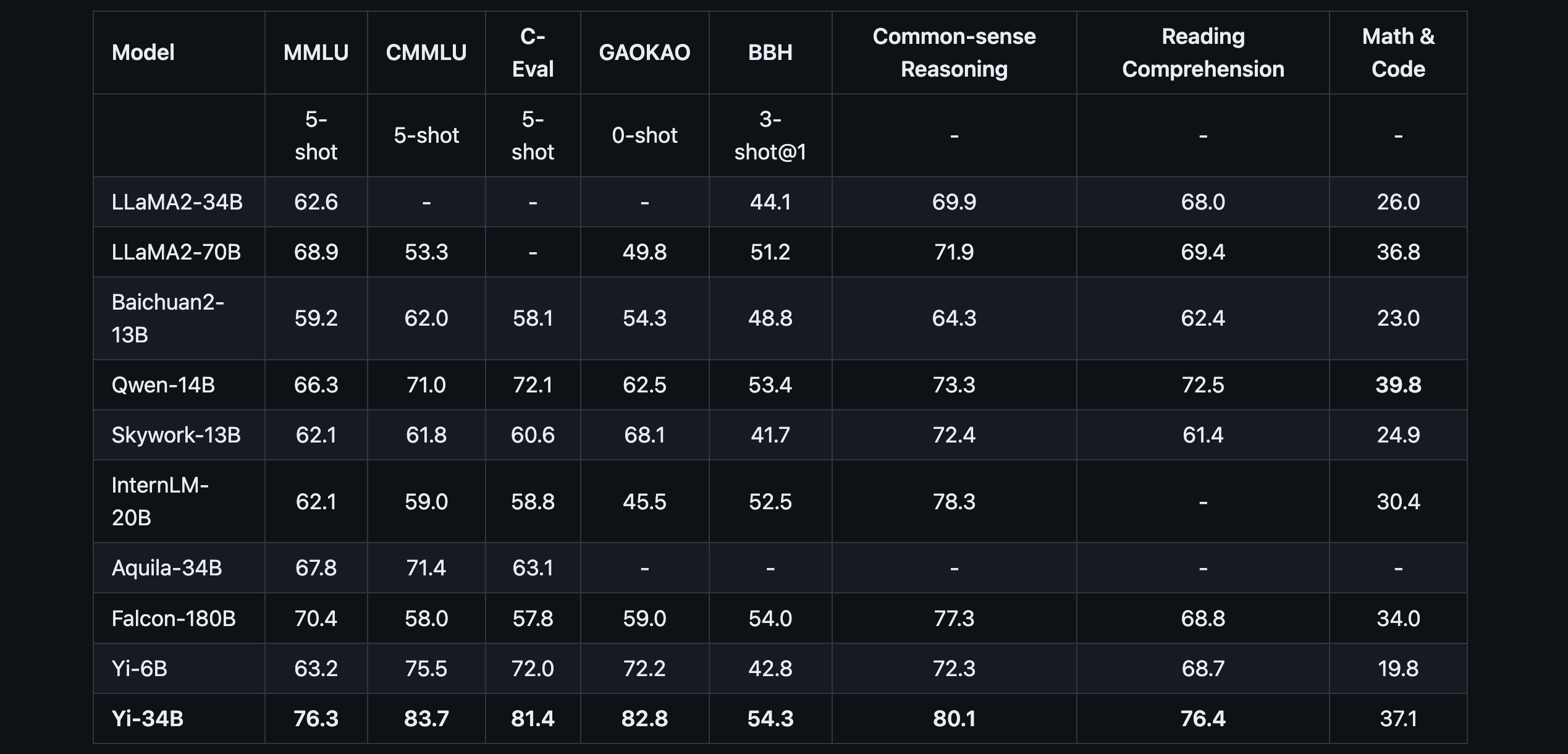 It has already grabbed the top spot among open-source pre-trained LLMs on Hugging Face's Leaderboard. While considerably smaller than models like Anthropic's Claude or Meta's LLaMA, its performance highlights 01.AI's technical capabilities. The model is licensed for free academic and commercial usage (with permission via applications) under Model License Agreement 2.0, positioning it as a compelling open source option.
Lee believes that with sufficient data and compute, larger models will substantially outperform smaller counterparts. Indeed, 01.AI plans 100-400 billion parameter models over the next 1-2 years that Lee expects will dramatically improve on Yi-34B.
A key factor enabling swift progress is 01.AI's smooth fundraising, which Lee says values the company at $1 billion. This has allowed stockpiling of AI chips and recruitment of over 100 experts from major tech firms in China and the U.S.
While open sourcing some models, 01.AI ultimately aims for state-of-the-art proprietary systems as a base for commercial products. Lee points to China's abundance of product development talent for finding real-world applications. The company already has plans for productivity and social concept apps this year.
With U.S.-China tensions complicating access to advanced AI hardware, 01.AI strategically acquired semiconductors early on, even borrowing funds to do so. This insulation from supply chain issues will sustain operations for over a year.
In the fiercely competitive generative AI space, 01.AI's rapid emergence as a well-funded player with strong technical talent makes it one to watch. Its balance of open collaboration and proprietary development may allow global impact.