Google announced it is expanding its Search Generative Experience (SGE) with generative AI capabilities to India and Japan. This marks the first international rollout of Google's experimental AI search feature beyond the United States.
Introduced earlier this year, SGE aims to provide users with AI-generated overviews, examples, and follow-up recommendations to quickly understand search topics. It allows more natural, conversational searches.
According to Google, early user feedback on SGE in the U.S. has been positive. Younger users especially appreciated the conversational nature. Users also reported that SGE enabled them to ask questions they wouldn't have thought of previously.
Google is now launching SGE in India and Japan to bring generative AI to more search users globally. Users can opt-in to the experimental SGE feature through Google's Search Labs.
In India, Google added toggles to easily switch between English and Hindi language results. Voice input is supported in both local languages as well. Users in India will also be able to listen to SGE responses in Hindi as an accessibility feature.
In Japan, SGE will work for Japanese language queries. Google aims to expand SGE language support as it rolls out to more countries.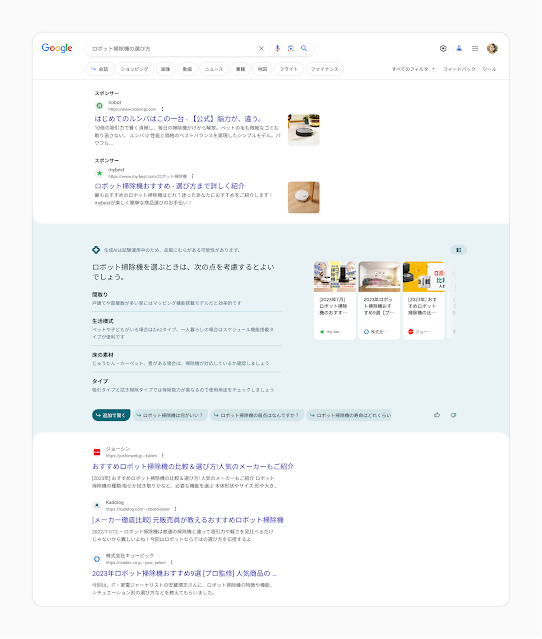 According to Google, early users are making more conversational, complex searches with SGE. Users appreciate the follow-up question suggestions within SGE overviews.
To make it easier to check web sources, Google added clickable arrow links within SGE overviews. Users can click these arrows to see web pages relevant to specific facts or statements. Although this feature is launching first in the U.S., it will roll out in Japan and India in the coming weeks.
Despite the advancements, Google notes that the generative AI in Search remains experimental. The company is committed to refining its systems and continuously gathering user feedback. Importantly, the company maintains that driving traffic to relevant websites remains a priority, ensuring a balance between AI-powered overviews and conventional search results.
The launch in India and Japan represents an important step in expanding SGE globally. Google plans to bring its AI-powered search experience to more countries based on learnings so far.
Any internet user can sign up to try SGE in Google's Search Labs. The experience is also available on Google's iOS and Android mobile apps as well as Chrome desktop browsers.