Shopping online has its benefits, but it is nothing like walking through your favorite large retail store or boutique. The tactile experience of feeling the fabric, checking the size and fit, and seeing exactly how it looks on you is, to date, irreplaceable. However, Google's latest generative AI model, TryOn Diffusion, aims to change this, bringing us one step closer to a truly immersive online shopping experience.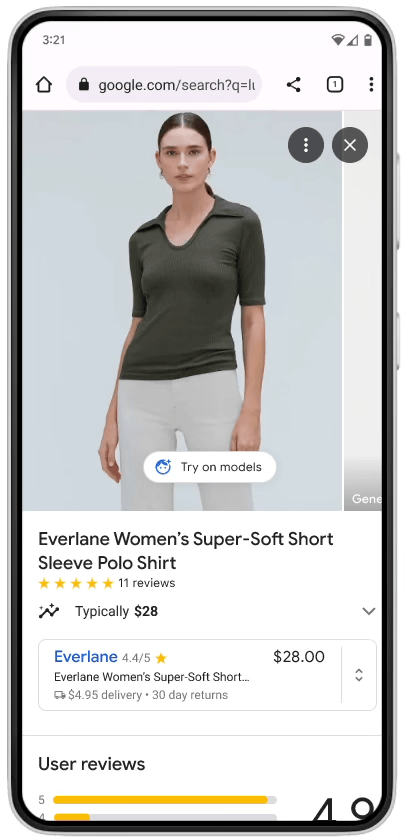 The virtual try-on feature shows how women's tops would appear on models ranging from sizes XXS to 4XL. The AI generates lifelike portrayals of clothing on real models of varying body shapes and sizes, allowing customers to see intricate details such as how the garment drapes, folds, stretches, and forms wrinkles.
"Forty-two percent of online shoppers don't feel represented by images of models, and fifty-nine percent feel dissatisfied with an item they shopped for online because it looked different on them than expected," Google stated in its announcement. "Now, thanks to our new virtual try-on tool on Search, you can see whether a piece is right for you before you buy it."
The aim is to make the online shopping experience more inclusive and realistic. Shoppers can now see what a garment looks like on a model that best represents them, making online apparel shopping more engaging, personalized, and satisfactory.
Additionally, the technology provides benefits for retailers by minimizing the need for extensive photoshoots. By generating images of products on a range of models automatically, retailers will be able to showcase merchandise on more body types and in more poses without expensive photography budgets.
However, the technology isn't perfect. Google acknowledges that there are limitations to its current form. Issues such as potential garment leaking due to errors in segmentation maps and pose estimations, and some challenges with preserving identity-related features like tattoos or specific muscle structures have been noted.
Nevertheless, the new virtual try-on tool represents a significant stride in the evolution of the online shopping experience. It is already available when shopping on Google for women's tops from brands like Anthropologie, LOFT, H&M, and Everlane. Google has plans to expand this to more brands and clothing categories in the future, including men's clothing.
Google is also using AI to provide guided refinements to help shoppers filter and discover alternative products that match their preferences as part of the new shopping experience. The AI is designed to help shoppers fine-tune product search until they find the perfect piece. The refinements feature considers inputs such as color, style and pattern to suggest products from different retailers all across the web.
This sort of AI-powered innovation and application of generative AI to tackle real-world problems is an exciting preview of the impact that AI will have on making everyday activities like shopping more convenient and enjoyable.