Healthcare startup Hippocratic AI announced $15 million in new funding this week, bringing its total raised to date to $65 million. The increased funding was facilitated by a new initiative, the Founding Partner Program, which has brought together a host of leading health systems and digital health companies. Notably, some of these partners have themselves chosen to invest in Hippocratic AI, aligning their long-term interests with the firm's trajectory.
Hippocratic AI, which was launched in May 2023 with $50 million in seed funding from notable venture capital firms a16z and General Catalyst, aims to revolutionize the healthcare industry by creating the first safety-focused large language model. The funds will be used to further develop their model, which is specifically designed for healthcare, with a focus on patient-facing, non-diagnostic applications.
Among the high-profile health organizations participating as founding partners are HonorHealth, Cincinnati Children's Hospital, Universal Health Services, ELNA Medical Centers, Capsule, SonderMind, and Vital Software. As partners, they will help guide key initiatives around data governance, use cases, model testing, and validation to ensure clinical and patient safety. Some partners have also invested in the startup as shareholders, gaining additional oversight on the model's progress.
For Hippocratic AI co-founder and CEO Munjal Shah, the new partnerships fulfill a core goal of ensuring the company's AI technology meets the highest standards for safety and ethics before deployment. "Our Founding Partners are the organizations and people who are best equipped to help develop our LLM—and determine when it's ready for deployment," Shah explained. "As healthcare professionals, they have a deep commitment to safe, positive outcomes for patients."
The partners represent diverse healthcare roles and specializations, spanning primary care, virtual care, behavioral health, pharmacy, and more. Hippocratic AI intentionally sought a wide range of perspectives to prepare its AI for a broad variety of healthcare applications.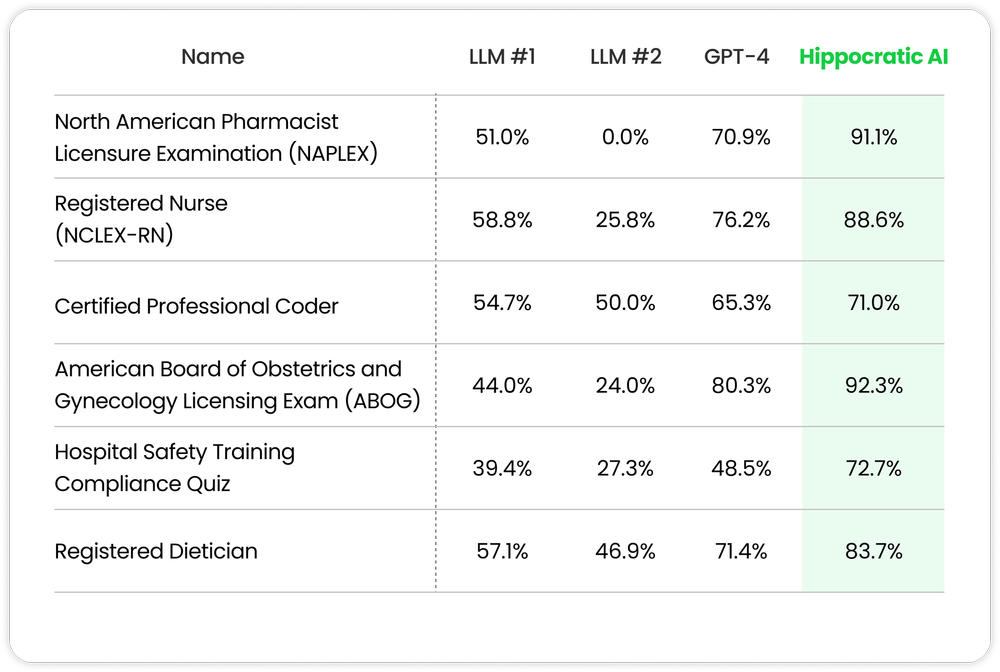 Compared to alternatives like OpenAI's GPT-4, Hippocratic AI's model has achieved superior performance on over 100 safety and quality tests. It outperformed GPT-4 by over 5% on 74 certifications and by over 10% on 43, demonstrating its rigorously trained focus on healthcare.
A key motivation behind Hippocratic AI's technology is increasing healthcare access, reducing costs, and empowering medical professionals. The COVID-19 pandemic underscored longstanding healthcare staffing shortages, with burnout exacerbating attrition rates. Shah sees AI as part of the solution to this "massive shortfall", working collaboratively with human providers to enhance care quality and capacity.
The startup is strategically focused on lower-risk, non-diagnostic tasks like benefits explanations, appointment reminders, and test result delivery. The company believes this "super-staffing" approach can maximize providers' time for critical in-person interactions while closing healthcare gaps. Hippocratic AI's language model has been trained extensively on medical terminology and dialog to communicate safely and effectively.
By augmenting human capabilities in this measured way, Shah projects the technology can yield substantial gains in healthcare availability, outcomes, and cost efficiency. The company's patient-centered approach stands apart from other AI solutions focused narrowly on clinical predictions. Further underscoring their commitment to responsible AI development, Hippocratic AI asserts the conviction that even today's most sophisticated models remain inadequately safe for independent clinical diagnosis.
Hippocratic AI represents a thoughtful approach to leveraging AI to truly benefit healthcare instead of merely maximizing technology for its own sake. The company's commitment to safety-first development and responsible deployment shines through in its rigorous testing and diverse expert partnerships.
However, the technology remains largely unproven in real world environments. While Hippocratic AI rightfully avoids unsafe applications like independent diagnoses, it will still face challenges translating controlled test gains into human-centric workflows. Trust in AI does not build easily in high-stakes healthcare.
If Hippocratic AI can truly deliver increased access and efficiency without compromising care standards, both patients and providers will be better off. But the startup must proceed transparently and engage stakeholders at each step to earn that trust. The path to ethical, life-improving AI in healthcare has many pitfalls. But with the right principles and partnerships, Hippocratic AI is off to a promising start.