LinkedIn today introduced a range of new AI capabilities aimed at improving key services across talent recruitment, learning and development, marketing, and sales.
Powered by AI technologies from Microsoft and OpenAI, the new features leverage large language models, generative AI, and other innovations to add automation, insights, and intelligence to LinkedIn's offerings.
The most robust enhancement comes in the form of Recruiter 2024, a redesigned version of LinkedIn's talent sourcing platform Recruiter. Recruiter 2024 incorporates generative AI to help recruiters find qualified candidates faster and more efficiently.
Rather than relying solely on boolean search strings, recruiters can now use more natural language to describe their ideal candidates. LinkedIn's AI will analyze these conversational inputs and suggest relevant profiles—reaching beyond recruiters' traditional go-to talent pools.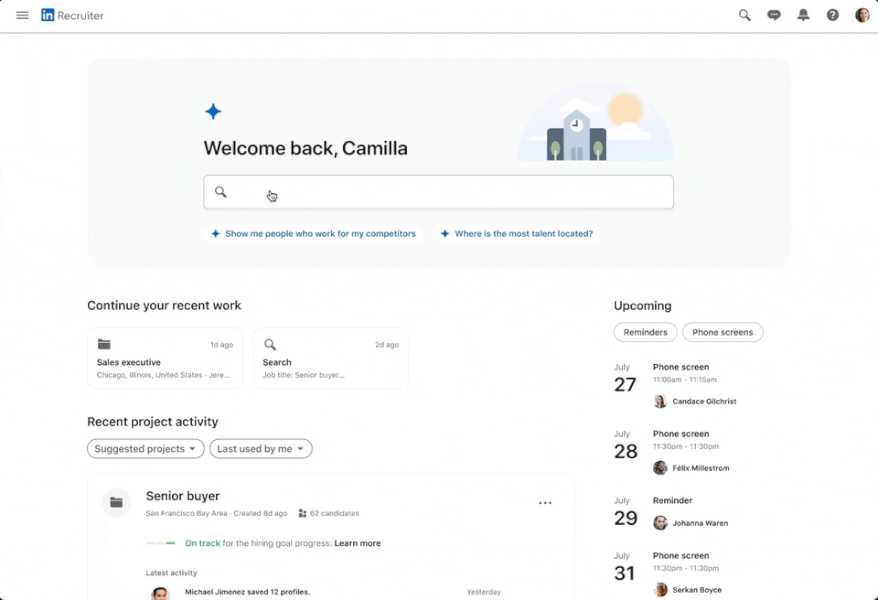 For example, recruiters could say "I want to hire a senior growth marketing leader" and the AI would infer the type of candidate needed, providing tailored recommendations. It also prompts for feedback to refine the search in real-time, like expanding locations or adding in-demand skills.
Recruiter 2024 additionally automates tedious tasks like drafting personalized outreach messages and scheduling follow-ups, enabling recruiters to focus on more strategic hiring initiatives. LinkedIn says it is focused on innovating in the following four areas:
AI-assisted candidate discovery: fast and easy sourcing, filtering, selection, skills analysis
Smarter suggestions: suggesting locations, job titles, skills, companies, and other criteria that would expand the results of a search
Simplified candidate outreach: AI-assisted InMails, automated InMail followup messages, CRM and email integrations.
Actionable data and insights: in-depth reports and insights to analyze job advertisements, posting performance, traffic, and dozens of other things.
Additionally, direct integration with Candidate Relationship Management systems is another key functionality that will allow seamless workflows with the new Recruiter. Initial partners include Avature, Beamery, Clinch, Jobvite, and Radancy.
On the learning front, LinkedIn is testing a new "AI coach" that will be available directly within its LinkedIn Learning platform.
The AI coach is a conversational assistant that lets users ask questions about professional skills development, like "How can I improve my leadership abilities?" In response, the coach will ask clarifying questions before providing tailored, personalized advice and content suggestions based on the user's specific situation, goals, and LinkedIn Learning history.
The coaching functionality aims to make LinkedIn's expert-led course catalog more accessible by quickly pointing users to the most relevant content. It focuses initially on widely applicable soft skills like leadership, management, and communication.
Beyond talent and learning, LinkedIn is bringing AI into its marketing and sales products as well. With LinkedIn Accelerate, marketers can easily create and run campaigns leveraging AI. Marketers simply provide campaign goals and inputs, and the AI handles optimization and personalization to improve results.
For sales professionals, new AI capabilities help identify and engage promising leads within their LinkedIn networks by automatically surfacing potential contacts and conversation starters tailored to specific companies or accounts.
LinkedIn's latest AI tools aim to simplify key business functions to let professionals focus on higher-value work. Over the last year, the company has rapidly propagated AI solutions across its offerings. Today's announcements join existing AI features around recruiter messages, job descriptions, profile building, Collaborative Articles and more.
It's part of a broader push to keep LinkedIn's nearly 1 billion members engaged as AI transforms industries and roles. The company says it began piloting Recruiter 2024 and LinkedIn Learning's AI-powered coaching to a small handful of customers today, and plans to roll them out to all Recruiter and Learning Hub customers throughout the year.