Taiwan-based chipmaker MediaTek today announced its newest flagship mobile processor, the Dimensity 9300, which aims to bring faster on-device artificial intelligence capabilities to next-generation smartphones.
The Dimensity 9300 incorporates what MediaTek claims is the "world's first hardware-based Generative AI Engine," designed specifically to accelerate performance for AI models. The upgraded AI Processing Unit (APU) promises up to 8x faster processing for transformer-based AI models thanks to both architectural improvements and a new hardware-accelerated memory compression engine.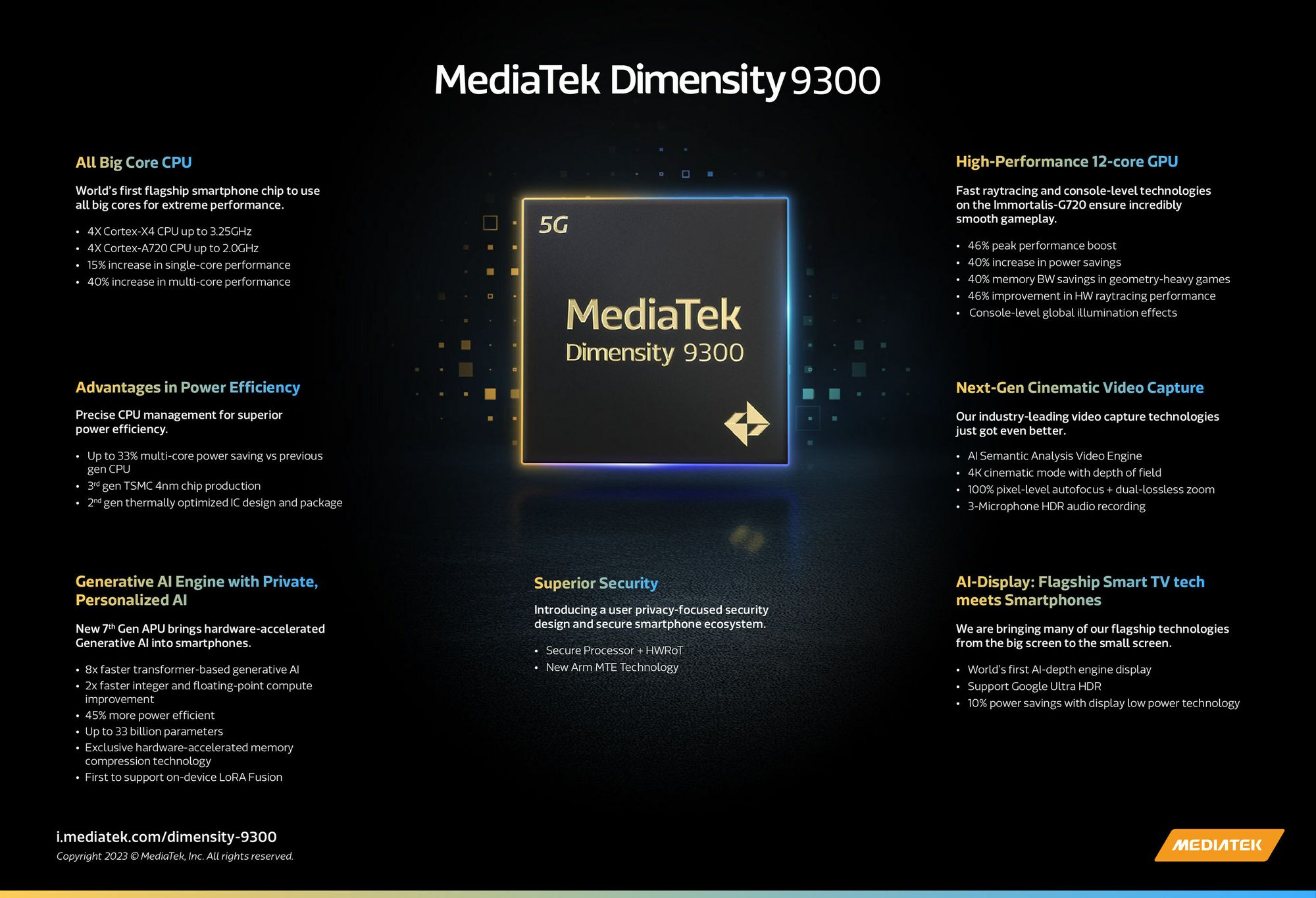 This speed boost allows smartphones to deliver creative AI experiences like text, image and music generation completely on the device. Performing AI processing on-device provides privacy and security advantages compared to cloud-based AI.
MediaTek states the Dimensity 9300 will be able to support extremely large AI models with up to 33 billion parameters. The chipset also supports efficient on-device model adaptation techniques like LoRA Fusion, enabling more personalized AI applications.
The announcement comes a month after Qualcomm unveiled its flagship Snapdragon 8 Gen 3 chip, which also boasts upgraded generative AI capabilities. Qualcomm claims the Snapdragon 8 Gen 3 can run the popular Stable Diffusion AI model over 10x faster than the prior generation, generating images from text prompts in under a second.
With both MediaTek and Qualcomm emphasizing on-device generative AI as a key feature in their latest flagship mobile chipsets, it's clear this emerging technology will be a major battlefield for the rivals as they compete to power next-gen Android phones.
Beyond AI, the Dimensity 9300 also features MediaTek's "All Big Core" CPU configuration with four high-performance Arm Cortex-X4 cores clocked at up to 3.25GHz. This promises up to 46% faster GPU performance for mobile gaming.
The chipset further enables camera improvements like always-on HDR video recording and enhanced noise reduction through built-in AI algorithms. It also supports the latest Wi-Fi 7 standard for faster connectivity.
First smartphones with the Dimensity 9300 are expected by end of 2023. With its focus on on-device AI, MediaTek is aiming to differentiate itself as a leader in making generative AI features seamlessly accessible at the edge.