OpenAI, the company behind the viral conversational AI ChatGPT, is experiencing explosive revenue growth. The Information reports that CEO Sam Altman told the staff this week that OpenAI's revenue is now crossing $1.3 billion on an annualized basis. This means the company is generating over $100 million per month—a 30% increase from just this past summer.
Since the launch of a paid version of ChatGPT in February, OpenAI's financial growth has been nothing short of meteoric. Additionally, in August, the company announced the launch of ChatGPT Enterprise, a commercial version of its popular conversational AI chatbot aimed at business users.
For comparison, OpenAI's total revenue for all of 2022 was just $28 million. The launch of ChatGPT has turbocharged OpenAI's business, positioning it as a bellwether for demand for generative AI.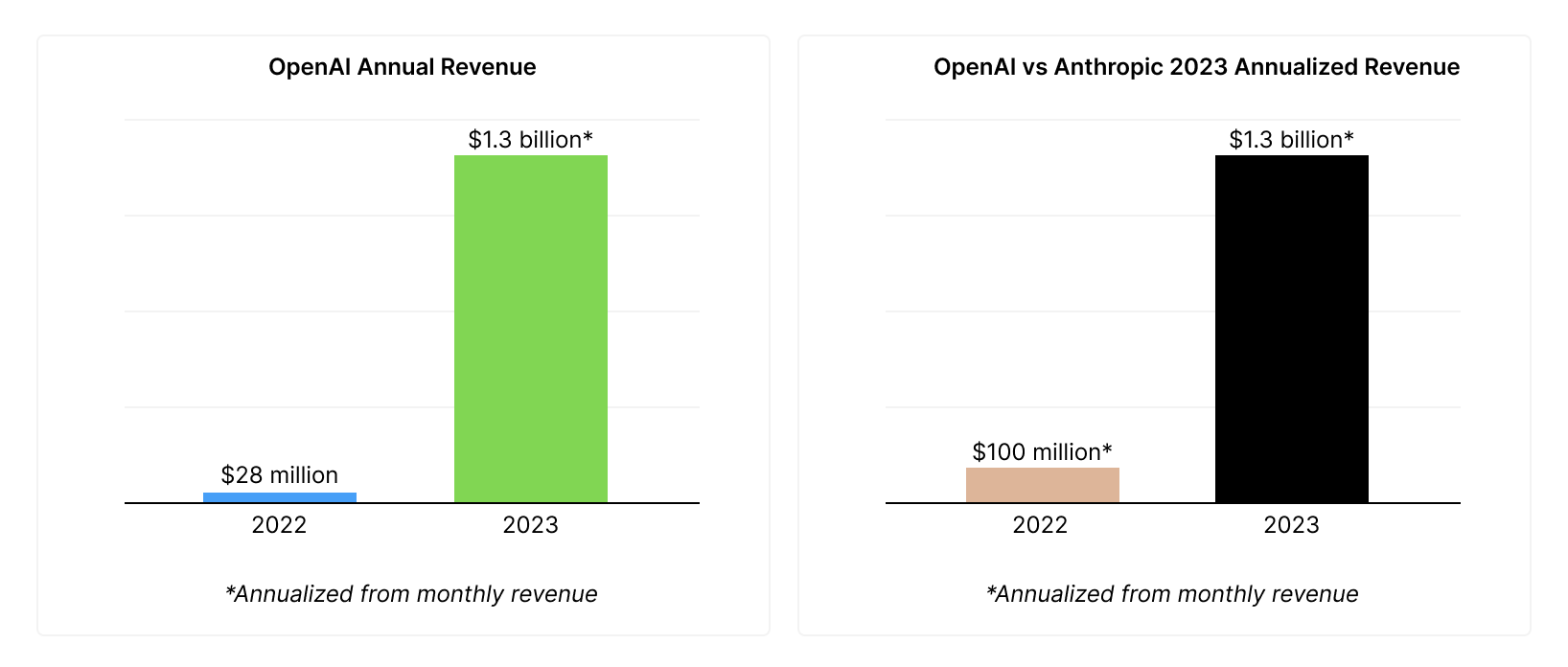 To contextualize OpenAI's revenue further, consider one of its closest competitors, AI startup Anthropic. Last week, reports emerged that Anthropic is seeking to raise $2 billion more at a valuation of $20 to $30 billion. However, the company has reached only $100 million in annualized revenue—about $8 million monthly.
This puts Anthropic's current revenue at less than 1% of OpenAI's staggering $1.3 billion run rate. While both companies offer comparative products, the market success of ChatGPT has propelled OpenAI far ahead for now.
ChatGPT has become the poster child to showcase how large language models are transitioning from research projects to practical tools. Although not perfect, conversational AI assistants like ChatGPT can write code, search the internet, and summarize documents.
OpenAI CEO Sam Altman has referred to LLMs as the next software "operating system" due to their versatility. The technology still faces challenges with accuracy and present bias, but its capabilities make it highly sought after.
Major enterprises like Microsoft, Stripe, Volvo, and IKEA are already using OpenAI's premium LLM product GPT-4. Next month, OpenAI plans to announce upgrades to ChatGPT and other performance improvements at its first developer event.
The significant upswing in revenue will likely drive up OpenAI's private valuation in an upcoming tender offer. The Wall Street Journal reported that the company's total valuation might soon be pegged at an impressive $80 - $90 billion.
For now, OpenAI seems poised to maintain momentum despite emerging competition from Google and Anthropic. But sustaining growth long-term could require solving the high computing costs of developing and running LLMs.
Nonetheless, for a company that generated just $28 million last year, OpenAI's explosion to a $1.3 billion revenue run rate in mere months is a dramatic success story. The startup's continued growth underscores the disruptive potential of large language models.