At its Samsung AI Forum 2023 this week, Samsung Electronics introduced Samsung Gauss, its new generative AI system aimed at enhancing productivity and user experiences across a range of applications.
The announcement highlights Samsung's expansive vision for generative AI and its potential to bring about a paradigm shift that deeply impacts both work and daily life. Samsung Gauss consists of three main components - Samsung Gauss Language, Samsung Gauss Code, and Samsung Gauss Image - which leverage the power of generative models in language, code generation, and image creation respectively.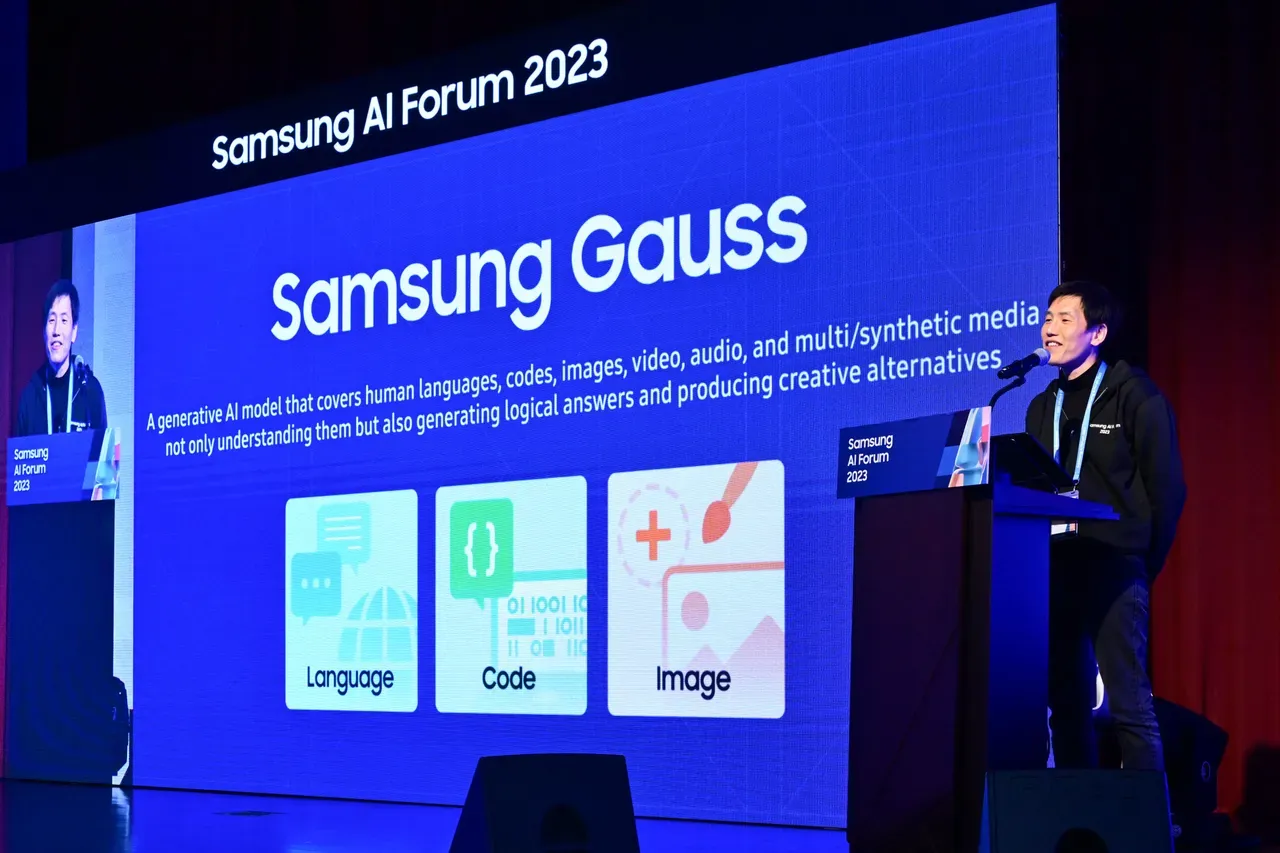 "We will continue to support and collaborate with the industry and academia on generative AI research," said Daehyun Kim, EVP of Samsung Research's Global AI Center, emphasizing Samsung's commitment to pioneering work in this field.
The forum featured presentations from leading AI experts, including researchers from OpenAI, on the rapid evolution of capabilities of large language models and their ability to enable new AI paradigms. Discussions provided perspectives on trends in multimodal AI as well.
The event also highlighted some of Samsung's extensive internal AI research through papers published by Samsung scientists in top journals and presentations on technologies like efficient code generation using AI, multimodal spatial reasoning, and advances in fine-grained language model evaluation.
Samsung Gauss, named after the esteemed mathematician Carl Friedrich Gauss, epitomizes the convergence of extensive worldly phenomena and knowledge. "The name reflects Samsung's ultimate vision for the models, which is to draw from all the phenomena and knowledge in the world in order to harness the power of AI to improve the lives of consumers everywhere," Samsung said.
The event provided a glimpse into the potential future consumer applications of Samsung Gauss on Samsung devices. The company emphasized how on-device AI models could enable users to have more natural language interactions with their devices in the future and highlighted productivity benefits. For example, Samsung Gauss Language could help with tasks like composing emails, summarizing documents, and translating content.
Samsung Gauss Code and its coding assistant code.i aim to streamline software development by enabling developers to code more easily. Samsung Gauss Image facilitates generative image creation and editing.
With the rapid pace of advancement in AI, concerns around ethics and safety have heightened. Samsung has emphasized its commitment to ensuring the responsible development of Samsung Gauss and its applications.
Initiatives like Samsung's AI Red Team continuously monitor for potential security and privacy risks in areas like data collection, model development, and service deployment. Samsung says this helps ensure Samsung Gauss is aligned with its principles for ethical AI as it makes its way into more impactful real-world applications.
Samsung Gauss is currently being used internally for "employee productivity", however Samsung hinted that it will make its way into consumer products as well to provide enhanced user experiences.