Defense technology company Shield AI has announced the launch of V-BAT Teams, a new product enabling fleets of its autonomous V-BAT drones to collaborate in executing military missions without relying on GPS or external communications. Powered by Shield AI's Hivemind AI software, V-BAT Teams aims to provide conventional deterrence through intelligent and affordable autonomous systems that can find, track and target adversaries over wide areas.
The launch marks a major milestone in operationalizing autonomous drone teams. As Brandon Tseng, Shield AI co-founder and former Navy SEAL emphasized the groundbreaking nature of V-BAT Teams. "Starting with an initial team size of four V-BATs, we expect the number to double annually. These V-BATs, functioning cohesively in electronic warfare conditions and as part of human-machine teams, present a formidable force multiplier."
According to Shield AI, V-BAT Teams can provide 24/7 surveillance coverage across 30,000 square miles to monitor over 1,000 potential targets in contested environments too risky for manned aircraft. The systems can detect threats, plan routes, and coordinate actions without relying on external data links vulnerable to jamming.
Shield AI CEO Ryan Tseng highlighted how the product enables deterrence through autonomous swarming drones, overcoming limits in pilot availability and restrictive autonomy solutions. "AI pilots enable aircraft to maneuver without GPS or communications and enable the concept of intelligent teaming," said Tseng.
Beyond the technology's capability, V-BAT Teams offer a strategic advantage. In modern warfare, the emphasis has shifted from individual weapon capability to saturating adversaries with affordable assets. This "force multiplier" approach aims to drain adversaries' resources by compelling them to expend more valuable munitions against cost-effective aircraft.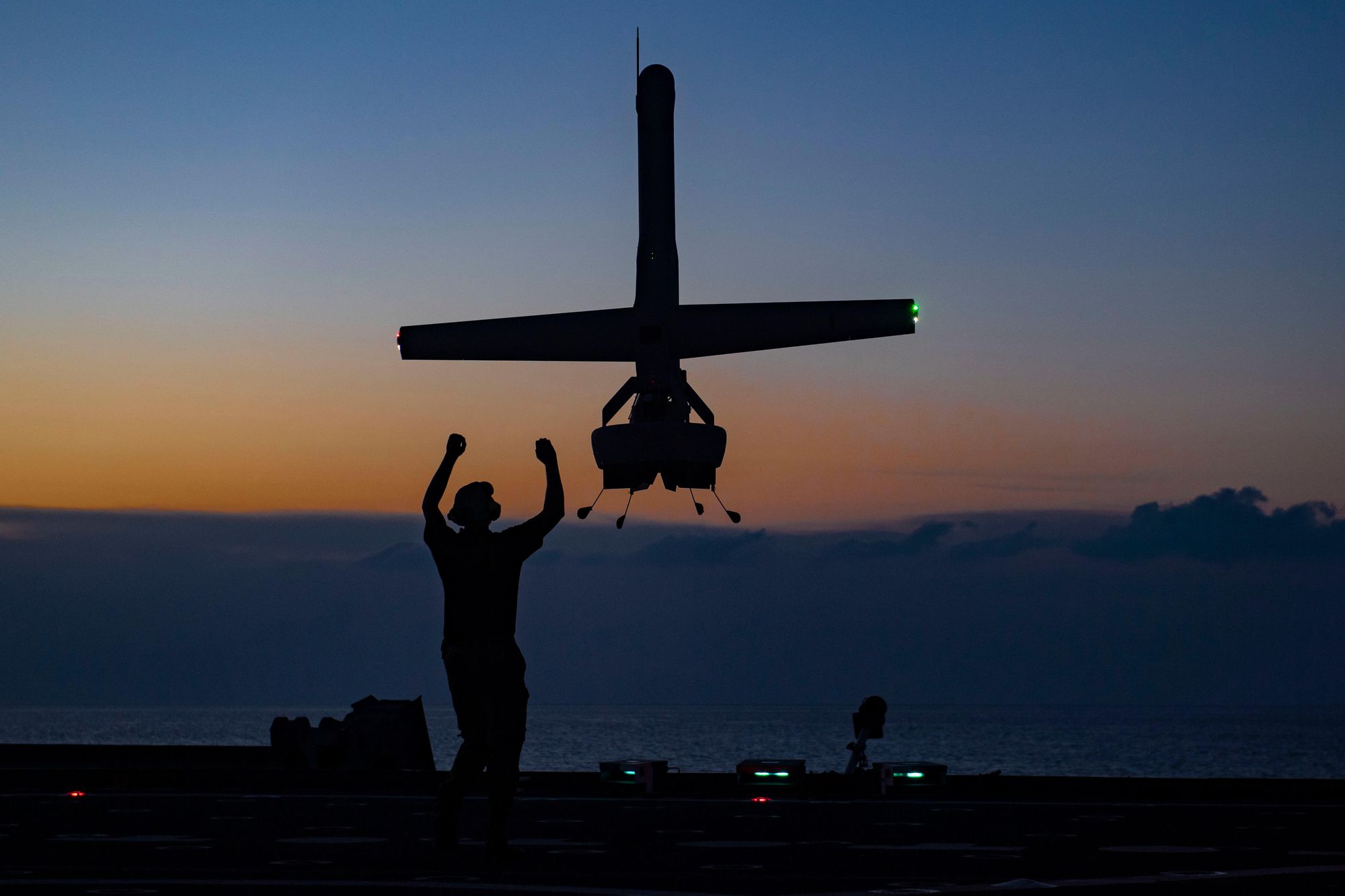 Hivemind, Shield AI's AI-powered pilot software, allows the V-BATs to operate as collaborative teams. The company claims Hivemind has proven itself by flying various aircraft including quadcopters, V-BAT drones, and even an F-16 fighter jet.
The V-BAT Teams payload can be installed in minutes, equipping V-BAT drones with Hivemind. The system receives quarterly software updates and biennial hardware upgrades, ensuring continuous evolution. Shield AI designed its ruggedized mobile ground control system specifically for managing extensive drone teams. It functions in expeditionary environments with unreliable power and adheres to full MILSPEC standards.
In what sounds like a scene straight out of a blockbuster movie, V-BAT Teams, when paired with kinetics like Northrop Grumman's Hatchet, can autonomously locate targets, fixate them with a laser, and eliminate them, even when traditional long-range munitions are unavailable.
Some analysts are optimistic about the potential for autonomous drone teams but caution that significant technical and operational hurdles remain. Mature collaborative autonomy has proven elusive even in controlled settings. Questions also persist around managing large-scale autonomous systems safely and effectively.
While ambitious, Shield AI's move to produce operational autonomous teams represents a significant milestone. If V-BAT Teams matures as envisioned, it could reshape aerial warfare and usher in a new era where autonomous systems shoulder an increasing share of risky missions. But realizing this future will hinge on overcoming the inevitable challenges that arise when moving intelligent machines from tightly-scoped demonstrations to broad, real-world operations.