A new startup called Sutro aims to revolutionize app development by allowing anyone to build full-fledged apps in minutes with no coding required.
The launch of Sutro marks a potential paradigm shift in software development, akin to the revolution of website creation tools in the 90s. Sutro's platform democratizes app development by harnessing the power of AI, enabling anyone to build fully functional apps for web, iOS, and Android in minutes, without the need for coding knowledge​​.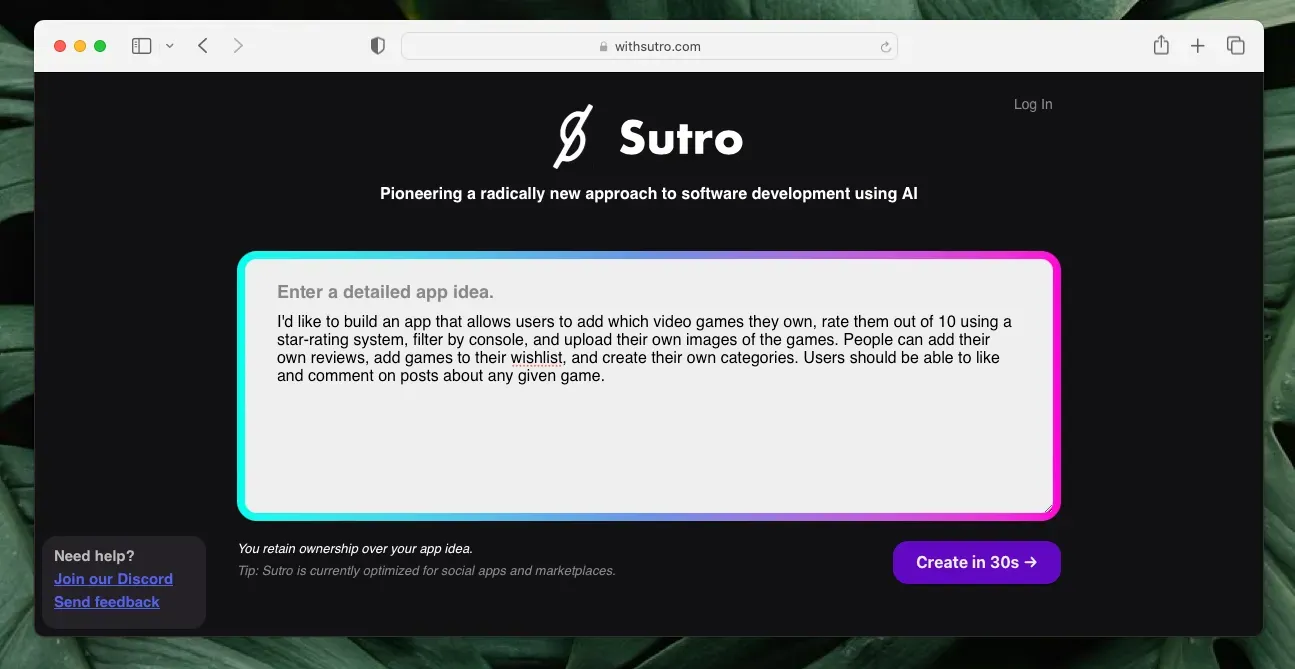 Founded in late 2021 by Tomas Halgas, a machine learning and compilers expert, and Owen Campbell-Moore, formerly of Google and Facebook, Sutro aims to make the app-building process as simple as creating a website. Halgas, who also sold his previous startup to Twitter, leads Sutro with a vision to eliminate the "grunt work" for entrepreneurs, allowing them to focus on unique ideas and innovation​​.
Sutro's platform is designed to be more than just a no-code tool; it functions as a comprehensive product team that takes a simple text prompt describing your app idea and turns it into a functioning product. Leveraging GPT-4 and other large language models (LLMs), along with proprietary rule-based compilers, Sutro automates the creation of web, mobile, and backend aspects of apps. This integration of AI with software engineering allows for a more intuitive development process, where high-level changes and customizations can be made effortlessly​​.
In a compelling demonstration of its capabilities, Sutro showcased the construction of a basic version of Pinterest in about 60 seconds, underlining the platform's efficiency. Sutro's business model is based on a subscription service, with pricing dependent on project complexity and maintenance requirements. Although specific pricing details are yet to be released, Sutro emphasizes affordability compared to the cost of a traditional development team. As of now, over 700 makers have used Sutro to build nearly a thousand apps, indicating strong initial uptake and validating the platform's ease of use and effectiveness​​.
Operating with a small but adept team in London and San Francisco, Sutro is poised at the forefront of a new era in app development. With backgrounds from prominent tech giants like Uber, Twitter, Meta, and Google, and backed by investors with a solid track record in the tech industry, Sutro is making strides towards a future where anyone with an idea can bring it to life through an app, regardless of their technical background.
As the company continues to develop its technology, the scope of Sutro's capabilities is expected to expand, allowing for the creation of increasingly complex apps. For entrepreneurs and dreamers looking to transform their ideas into digital realities, Sutro represents not just a tool, but a partner in innovation.
While promising however, it warrants remembering that the technology remains unproven for more complex real-world apps. But, if successful, Sutro's mission to empower anyone to turn ideas into functioning software could potentially have huge benefits. It merits watching as they continue to develop their AI platform.