Video streaming service Tubi announced today the launch of a new AI-powered content discovery feature called Rabbit AI. Available initially as a beta test on iOS devices, Rabbit AI aims to provide personalized recommendations from Tubi's catalog of over 200,000 movies and TV shows.
Powered by OpenAI's GPT-4 language model, Rabbit AI allows Tubi users to search by asking natural language questions and prompts. For example, users could ask "Show me funny shark movies" or "Recommend anime with strong friendships." According to Tubi, Rabbit AI goes beyond basic keyword searches to interpret the contextual meaning behind search queries.
"At Tubi we're uniquely situated to find content for viewers that's specific to the moment they're in because of our large library and our personalization and machine learning algorithms," said Blake Bassett, Tubi's Senior Director of Product. "With Rabbit AI we're making the content discovery experience fun again."
Results from Rabbit AI can be bookmarked to the user's "My List" to save for later viewing. The feature also saves search history in "Rabbit Holes" so users can revisit previous searches.
Tubi states that Rabbit AI will surface more tailored recommendations the more it is used. As users watch or save content suggested by the AI, Tubi's algorithms will refine suggestions on the homepage to reflect evolving interests.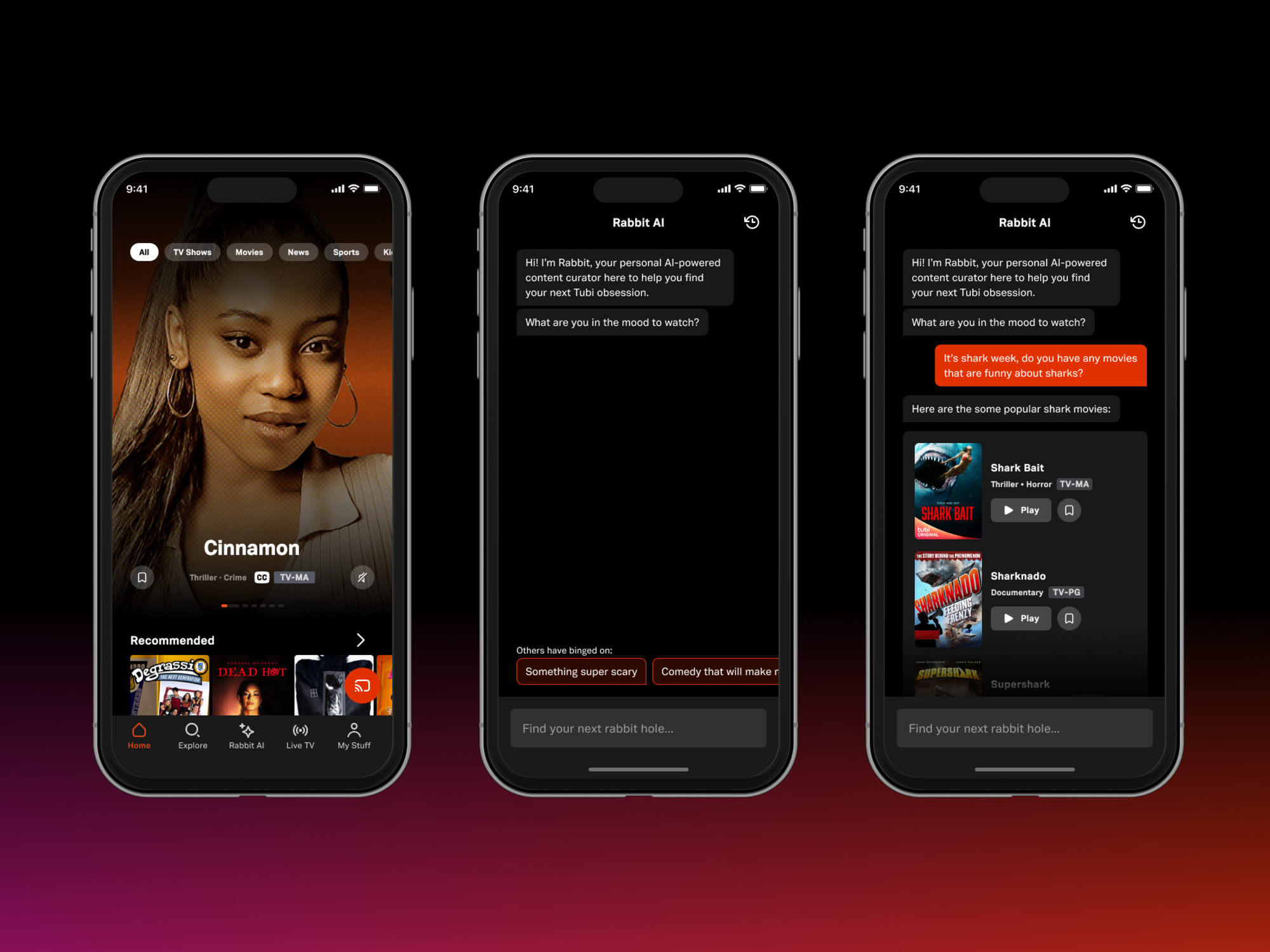 The launch builds on Tubi's existing personalization capabilities, which tailor homepage recommendations based on viewing behaviors. Rabbit AI aims to enhance discovery by interpreting natural language and drawing connections between disparate titles based on GPT-4's understanding of words and semantics.
Tubi positions Rabbit AI as a way to engage viewers, reduce choice paralysis, and unearth hidden gems tailored to each user's interests. The beta launch on iOS represents Tubi's latest move to leverage AI to enhance its user experience.
The ad-supported streaming service, a division of Fox Corp, claims over 50 million monthly active users. Rabbit AI's integration of OpenAI's powerful new language model reflects Tubi's ongoing efforts to differentiate itself in the increasingly competitive video streaming market.