San Francisco-based Vanta, a leading trust management platform, today announced the launch of Vanta AI, a suite of AI-powered products designed to accelerate compliance processes and streamline security workflows for organizations.
With capabilities like automated vendor security reviews, intelligent questionnaire response generation, and control mapping suggestions, Vanta AI aims to eliminate the manual, repetitive tasks that have plagued security teams. This enables professionals to focus their efforts on more strategic initiatives, ultimately strengthening an organization's security posture.
Vanta AI's features will include:
Instant Vendor Security Reviews: Analyzes documents like SOC 2 reports in seconds to extract security insights, drastically speeding up vendor risk assessments.
Rapid Questionnaire Completion: Generates questionnaire responses by drawing insights from existing libraries, past responses, and uploaded policies to complete customer security questionnaires in minutes.
Simplified Compliance Controls: While not available as yet, this feature will automatically suggests relevant tests and policies when adding new compliance frameworks, easing framework implementation.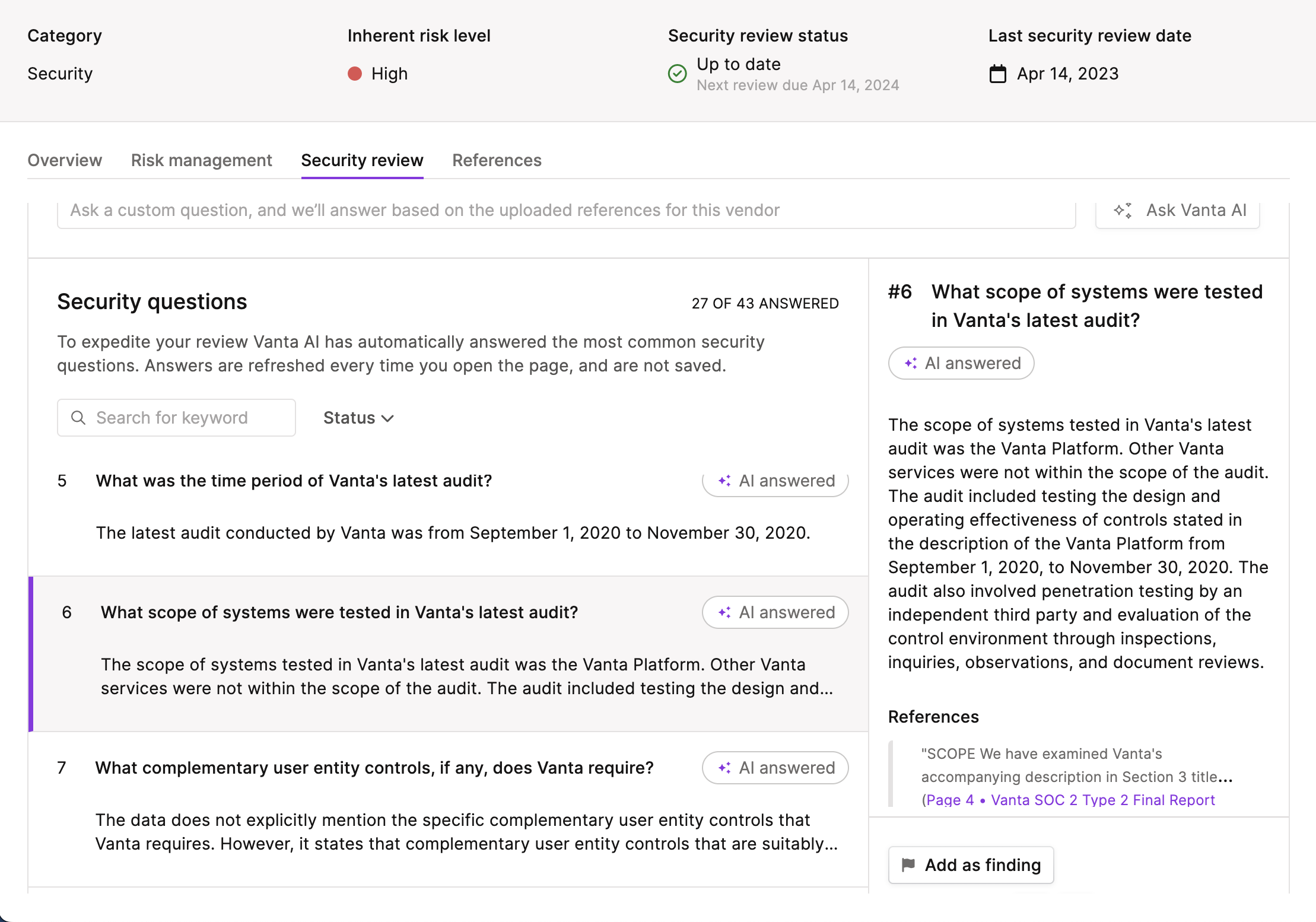 "Vanta AI automates the most laborious tasks security teams are forced to perform manually today," said Jeremy Epling, Vanta's Chief Product Officer. "With more capabilities coming, Vanta AI paves the way for the future of intelligent trust management."
The company is mindful of the public concerns surrounding AI, particularly in areas of privacy, security, and transparency. Vanta emphasized that it remains committed to responsible AI deployment. Its AI principles, framed in alignment with the NIST AI Risk Management Framework, ensure that all AI initiatives are built upon a foundation of trust, transparency, and security.
The acceleration and automation of security workflows is a growing priority for resource-strapped teams. Vanta AI's launch not only signifies a leap towards addressing these challenges but also underscores the transformative potential of AI in reshaping the security and compliance sector. As one of the first comprehensive trust management platforms to integrate generative AI capabilities, Vanta is clearly positioning itself at the vanguard of this revolution, championing a future where security is both seamless and trustworthy.