Vital, a pioneering healthtech startup, has announced its new AI-powered Doctor-to-Patient Translator at the Ai4 Conference. This first-of-its-kind tool transforms complex medical jargon into plain explanations at a 5th grade reading level, aiming to enhance patient understanding.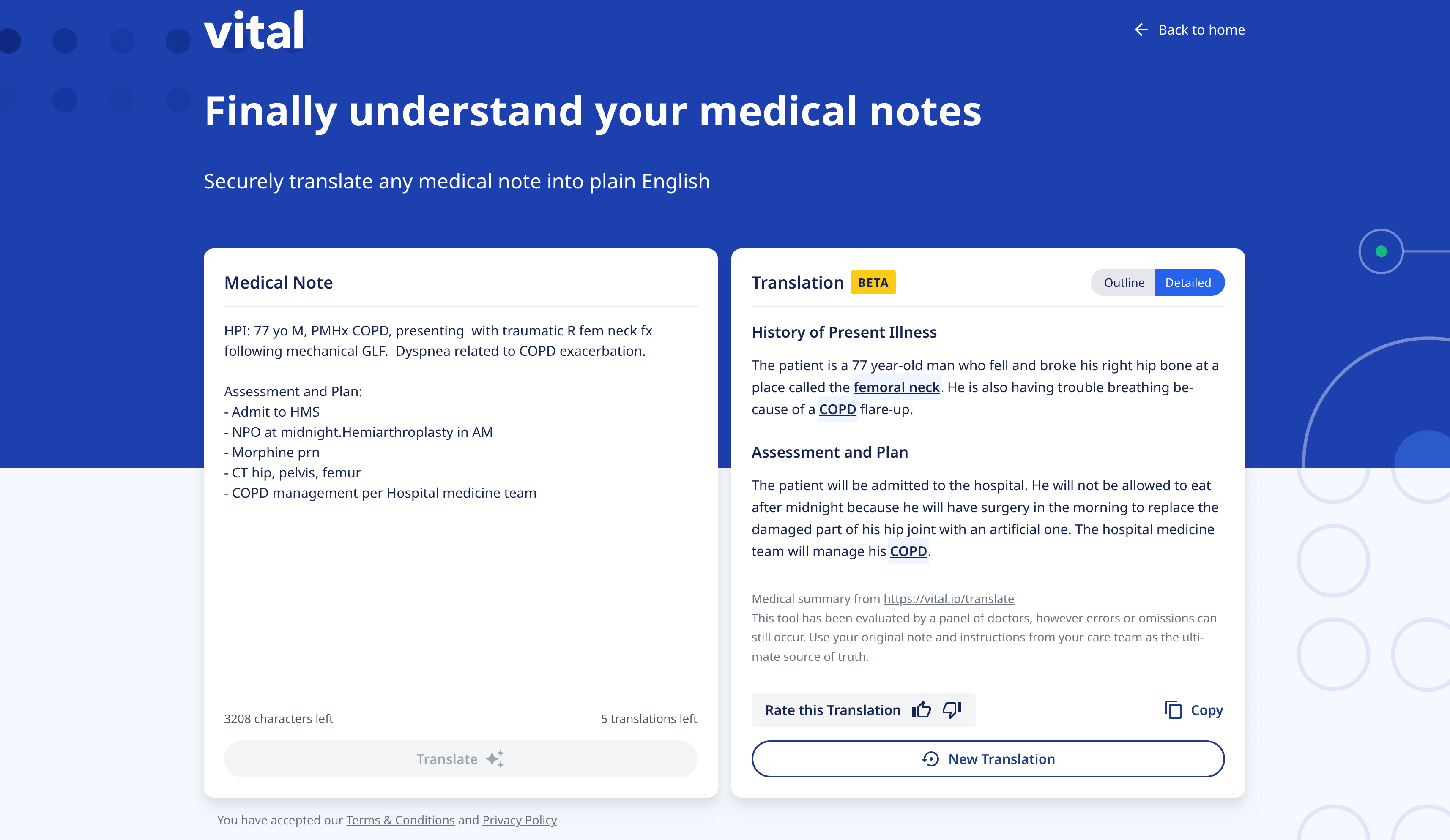 The Translator parses intricate terminology in doctors' notes, test results, instructions and more into simplified language using advanced natural language processing. This empowers patients with accurate and accessible information about their health. Patients can access it for free on Vital's website, requiring no registration. It is securely hosted on Microsoft's HIPAA- & HITRUST-compliant cloud.
As for its reliability, an evaluation in July 2023, conducted by a panel of medical professionals, revealed that an astounding 99.4% of the translations generated by this tool were deemed safe for patient understanding. This success rate outshines conventional doctor-patient communication standards, underscoring the tool's efficacy.
Vital's Translator marks a major milestone in bridging long-standing communication gaps between healthcare providers and patients. By enhancing comprehension of diagnoses, conditions, care plans and more, the tool helps patients make informed decisions and take ownership of their care journeys.
The launch comes at an opportune time. The 21st Century Cures Act has required medical notes accessibility since 2016, but these often include confusing technical language. Meanwhile, misunderstandings due to medical jargon frequently lead to poor outcomes.
Since its inception in 2019 by Aaron Patzer, the genius behind Mint.com, and Emergency Physician Dr. Justin Schrager, Vital has been on a mission to revolutionize the patient experience. Through the power of advanced AI, the company has transformed intricate health records into interactive interfaces, bringing clarity and understanding to over one million patients each year.
The company's trajectory has been impressive. Earlier this year, Vital secured $24.7 million in Series B Funding, taking its total funding to over $40 million. Their other software offerings, including ERAdvisor and CareAdvisor, cater to modern patients, providing a seamless healthcare experience and are now integral parts of 31 health systems nationwide. In July, the company announced that it had surpassed 1 million users.
The new Translator represents Vital's latest innovation in its mission to make healthcare more engaging and transparent. The tool is already available at partner hospitals with seamless integration into existing provider workflows.
By continuing to innovate at the intersection of AI and healthcare, Vital has the potential to transform patient engagement across emergency, inpatient and outpatient settings. The Doctor-to-Patient Translator marks just the beginning of this promising new era of transparent, empowering healthcare experiences enhanced by artificial intelligence.