Fitness wearable company WHOOP is unveiling a new AI coaching feature that provides users with personalized health and wellness recommendations powered by generative AI. Called WHOOP Coach, the tool utilizes OpenAI's language model GPT-4 to analyze a user's biometric data from WHOOP's wearable device and deliver tailored insights and guidance.
WHOOP is no stranger to leveraging machine learning to help its members decipher their data. However, this new integration of generative AI takes it several notches higher. Rather than generic suggestions, users receive highly tailored advice, insights, and even fitness plans, with WHOOP acting as a personal search engine. According to WHOOP founder and CEO Will Ahmed, the technology will "transform our members' relationship with their data."
The new feature allows users to ask questions about health, fitness, nutrition, recovery and more. The AI examines the user's unique biometric data (sleep, strain, recovery, and more) collected by WHOOP's wearable and provides customized responses and recommendations. It draws from the latest in performance science and research, identifies patterns and connections in the user's data, and then generates responses in a conversational manner—all within seconds.
For example, users can inquire about optimizing morning routines, improving heart rate variability scores or comparisons to other WHOOP members. The AI can also provide personalized training plans, recipes and other specifics based on the user's physiological metrics and stated goals.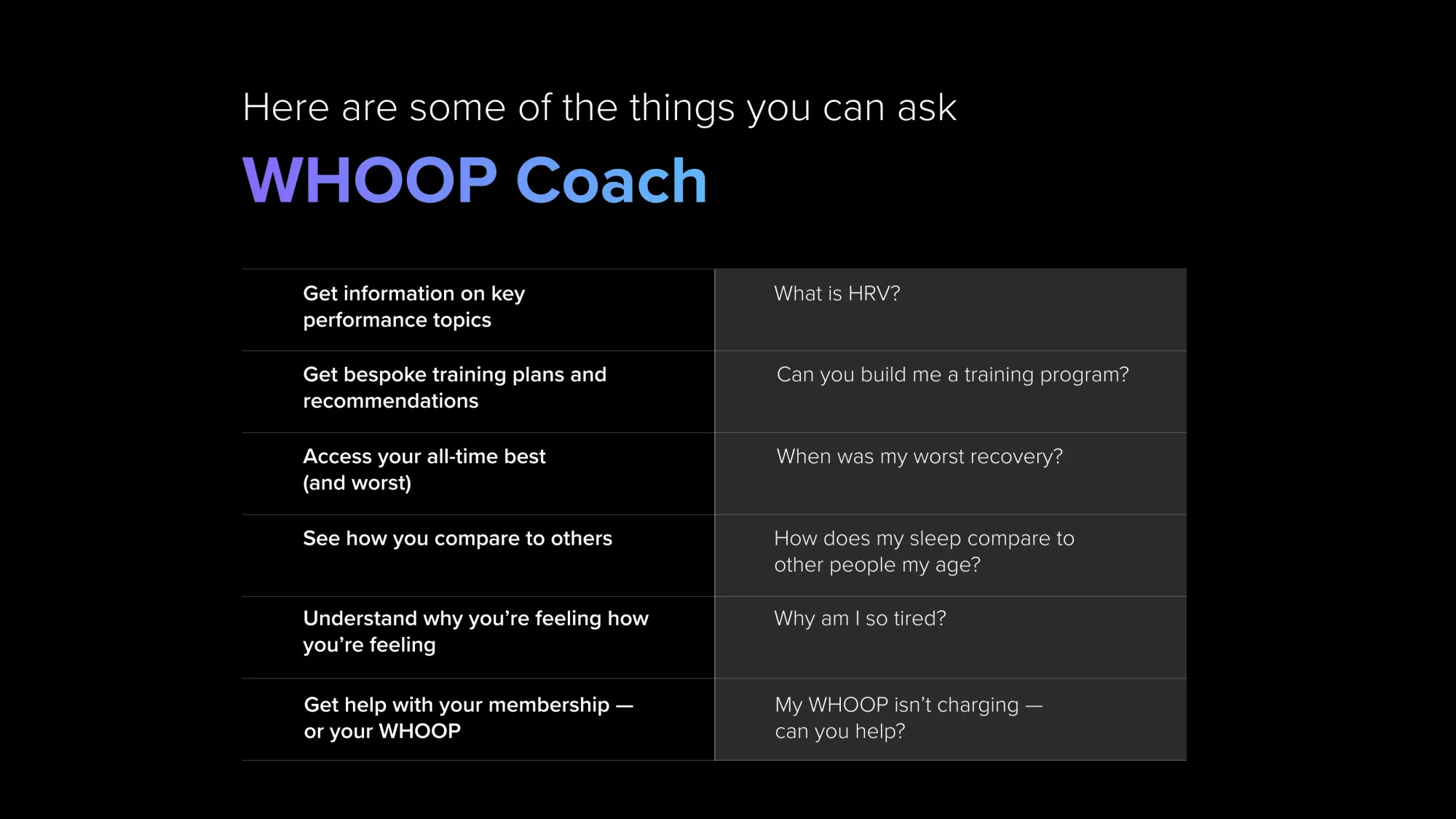 Unlike generalized search results, WHOOP Coach's AI evaluations and suggestions are unique to each user. The more data a user provides via WHOOP's wearable and journaling features, the more tailored the insights become over time.
WHOOP says its proprietary algorithms, custom machine learning models and OpenAI's natural language generation allows WHOOP Coach to understand complex questions and context in order to produce human-like conversational coaching.
Brad Lightcap, COO of OpenAI (and apparently a longtime WHOOP user), remarked on the evolution of the technology, emphasizing WHOOP Coach's potential to further harness wearable technology's value in the health and personal performance sectors.
The launch represents WHOOP's latest innovation in leveraging technology to unlock insights from its wealth of physiologic data. Other recently introduced features include Strength Trainer for quantifying workouts and Stress Monitor for evaluating lifestyle factors affecting health.
Whoop Coach is now available in the WHOOP app with 30-day free trial period.