Video conferencing giant Zoom has announced the launch of Zoom AI Companion, an AI-powered digital assistant now included at no cost for customers with paid Zoom accounts. The new assistant, previously known as Zoom IQ, aims to increase productivity and improve collaboration. However, the launch comes amid ongoing controversy around Zoom's use of customer data to train its AI tools.
Zoom AI Companion provides real-time support across Zoom's products including Meetings, Chat, Phone, Email and Whiteboard. Capabilities include summarizing meetings, composing messages in Chat, generating ideas in Whiteboard, and eventually offering a conversational interface to answer questions and take actions based on context across the Zoom platform.
The assistant incorporates Zoom's own natural language models as well as third-party AI from Meta, OpenAI and Anthropic. Zoom states its "federated approach" allows high-quality results while lowering costs.
The launch follows backlash earlier this year when Zoom updated its terms of service to indicate customer content could be used to train its AI models. Critics accused Zoom of mining customer data without consent. In response, Zoom has now clarified that "Zoom doesn't use any customer audio, video, chat, screensharing, attachments or other communications-like customer content to train Zoom's or third-party AI models."
Nonprofit Software Freedom Conservancy recently called on developers to abandon Zoom over the policy changes. Zoom maintains that it aims to put customers' privacy needs first, according to their press releases. AI Companion features are turned off by default, giving account owners and administrators control over whether or not to enable them.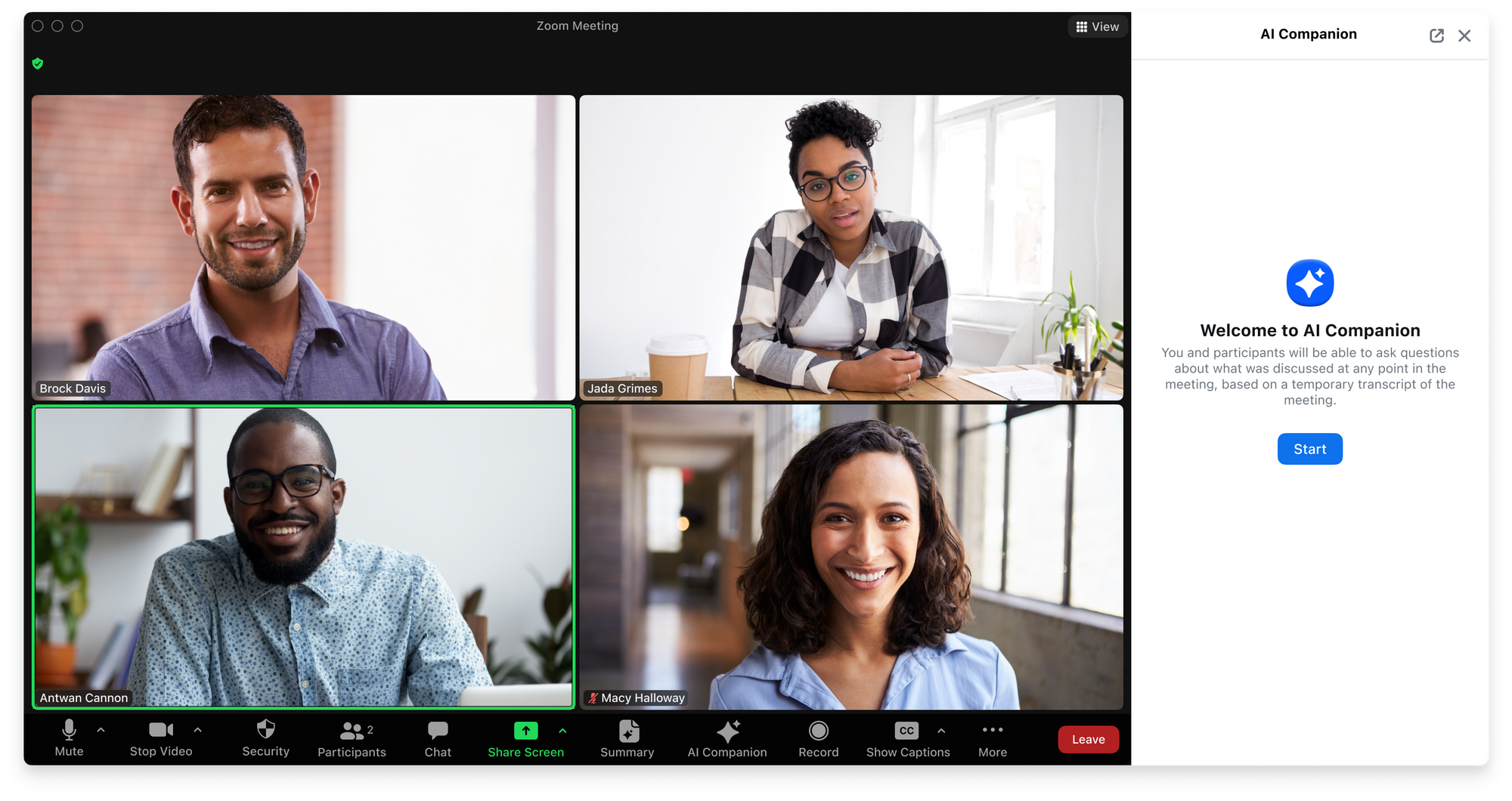 Here are some key features Zoom AI Companion will offer:
With Zoom Meetings, AI Companion will provide meeting summaries, Q&A support during meetings, and coaching on presentation skills by 2024.
In Zoom Team Chat, AI Companion will suggest responses based on context, summarize long threads, and auto-complete sentences by 2024.
For Zoom Whiteboard this fall, AI Companion will generate ideas and images and populate templates by 2024.
Zoom Mail will get AI-generated email drafts this fall, while Zoom Notes and Zoom Phone will get meeting summaries and call/SMS summaries by 2024.
Conversational Interface: Ask questions about past meetings, chats, documents. Initiate actions like scheduling meetings, filing tickets.
The side panel interface in Meetings provides interactive access to AI Companion now. This will expand across Zoom's platform over the next year as capabilities are added.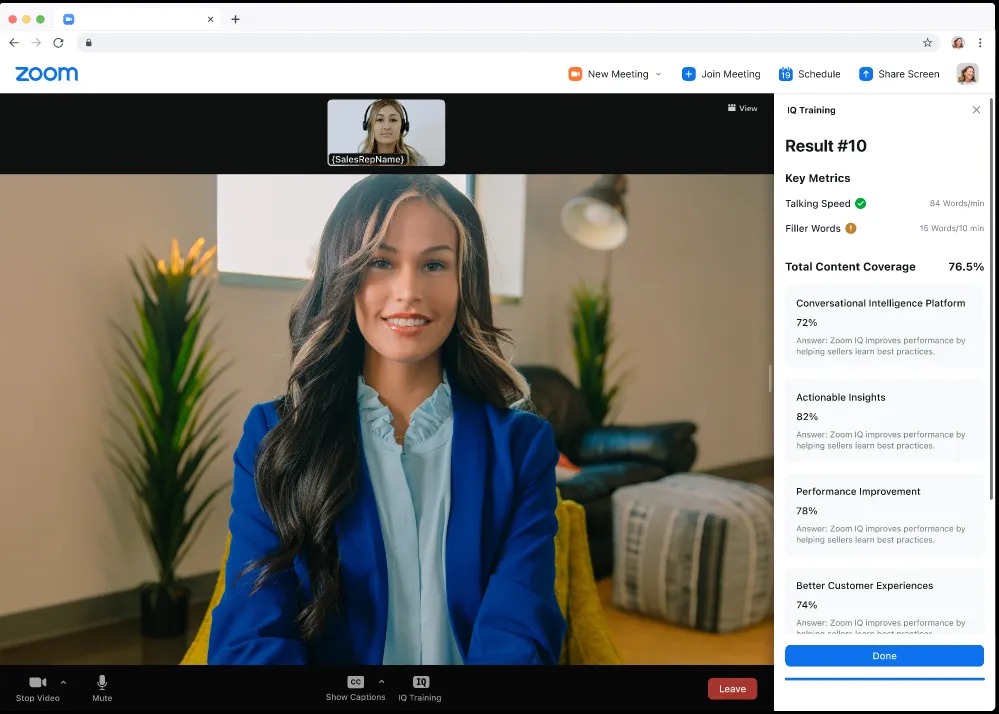 Zoom also announced that it is developing a conversational interface for AI Companion (think ChatGPT) that will allow users to query the assistant before, during, and after meetings to enhance productivity. Users can ask AI Companion to research key projects ahead of customer meetings by drawing insights from Zoom tools like chat, email, and documents as well as integrated third-party apps if permitted.
During live meetings, AI Companion can catch users up on discussions in real-time, draft responses to questions, and create support tickets. Post-meeting, the assistant can summarize discussions, identify action items and next steps, and share these follow-ups directly in tools like Zoom Team Chat or external apps to keep relevant stakeholders aligned. This contextual conversational capability aims to streamline work by leveraging AI to automate administrative tasks.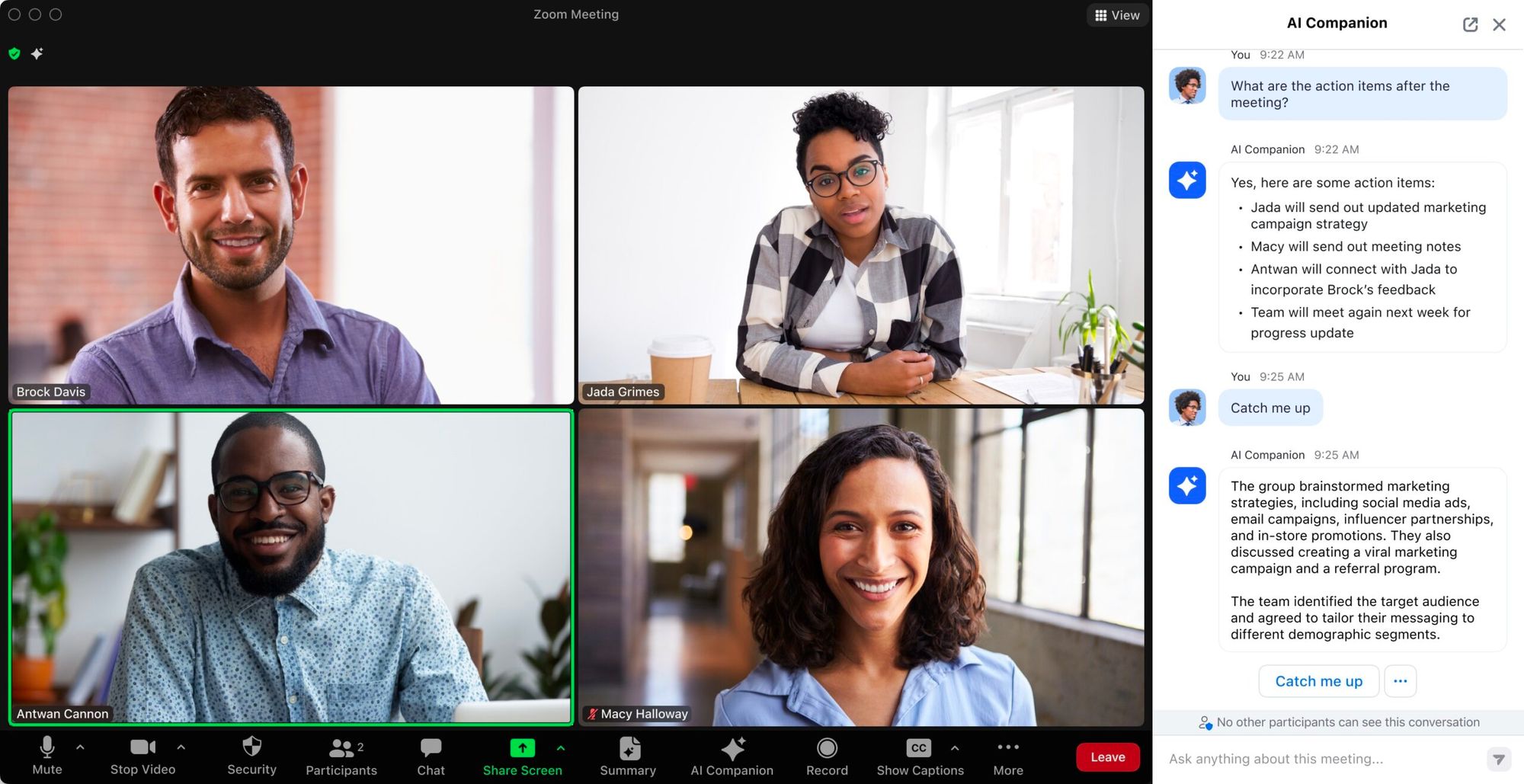 As with all its AI tools, Zoom states customers control activation. Nonetheless, the launch of expansive new AI capacities on the heels of data privacy concerns provides an opportunity for Zoom to rebuild trust through transparency around how customer content is used.
In other news, Zoom is rebranding Zoom IQ for Sales, its AI-powered sales assistant, as Zoom Revenue Accelerator. New features include virtual coaching to train sales teams and deal risk signals to monitor stale opportunities. This rename distances the product from the poorly received sentiment analysis in the original Zoom IQ for Sales.
The flurry of AI updates aims to boost Zoom's competitiveness in the crowded video meeting space. However, the company faces deep challenges after pandemic demand dried up. Recent layoffs and financial losses underscore the need for Zoom to find new ways to add value in remote work. While AI promises productivity gains, Zoom must clearly communicate how its technology respects customer privacy if it wishes to regain trust.