Adobe today announced the commercial release of Firefly, its family of generative AI models that enables users to easily create stunning AI-generated images, effects, and more. Firefly is now integrated into Creative Cloud apps like Photoshop, Illustrator, and the all-in-one creative app Adobe Express. It is also available as a stand-alone web app. This marks a major milestone in bringing advanced generative capabilities to millions of creators worldwide.
The launch comes after an extensive beta period that generated over 2 billion images, indicating strong demand for accessible generative AI tools. Beginning November 1, Creative Cloud and Express subscribers will get new "generative credits," that provide a set amount of free fast image generations monthly, enabling broad exploration of Firefly's capabilities.
Users can also subscribe to the premium Firefly plan to receive 100 monthly generative credits. If you have multiple subscriptions, the total number of generative credits available is the aggregate of what is included in each plan. For now, there is not an option to increase the number of generative credits. If a paid subscriber uses up all their credits, they will either experiencing slower, non-priority processing or receiving a daily generation cap.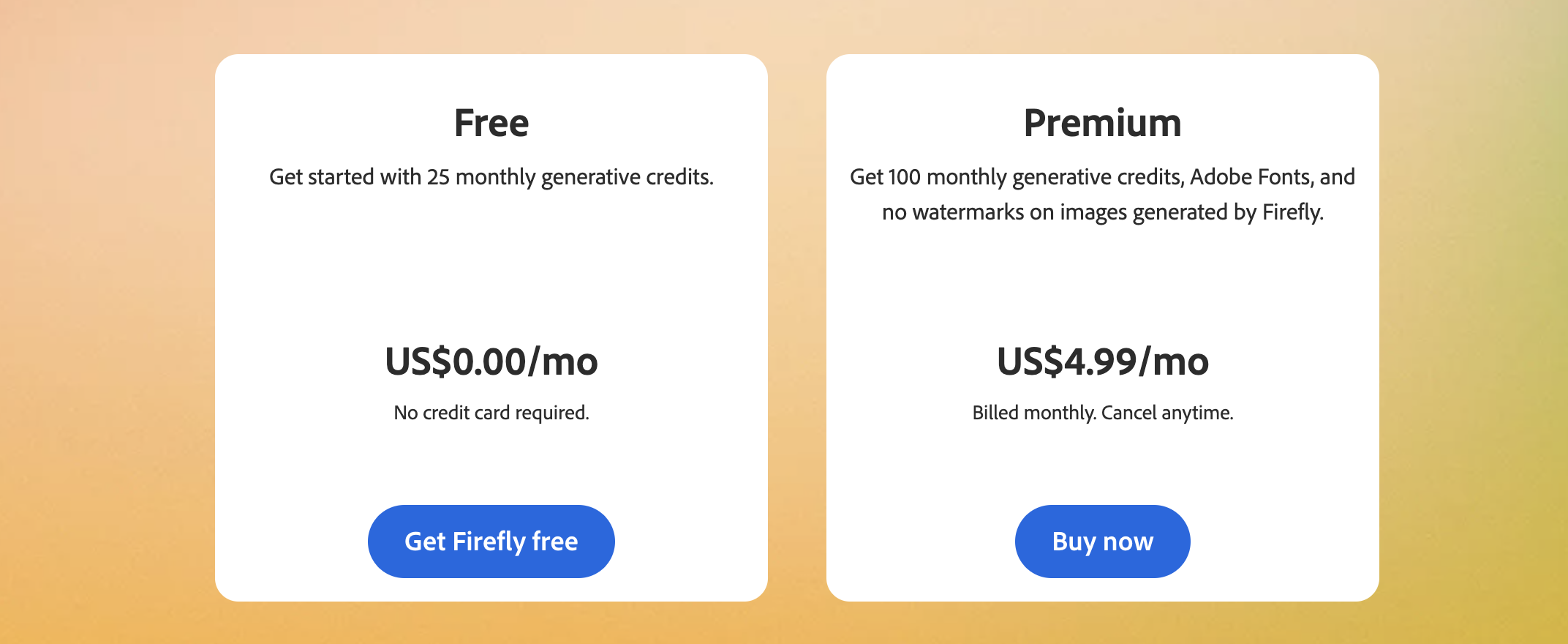 While startups like Midjourney and Stability AI have been front-runners in AI image generation, Adobe's release stands out given their long-standing trust and massive install base within the creative community. This positions the company to potentially bring generative AI mainstream.
"Adobe's goal is to unleash a new era of AI-enhanced creativity by combining Firefly's capabilities with our deep tooling expertise," said David Wadhwani, President of Adobe's Digital Media Business.
Importantly, Adobe has taken steps to make Firefly's output "safe for commercial use," reducing legal uncertainties users face with generative models. The company trained its initial model on public domain and properly licensed content. Firefly also watermarks AI-created images with "Content Credentials" to provide transparency.
On the enterprise side, the release includes Firefly for Enterprise and Adobe GenStudio, allowing companies to streamline content creation with custom models trained on their own data and branding. Brands like Mattel, NASCAR, NVIDIA, and Accenture are already working with Adobe to see how Firefly can enhance their design workflows and reduce costs.
With integrations across Creative Cloud, Express, and Experience Cloud, Adobe is leveraging its ecosystem to usher in a new era of AI-enhanced human creativity.