With critical elections approaching worldwide, Microsoft is enhancing its cybersecurity offerings to help safeguard electoral processes against emerging threats like AI-generated misinformation campaigns.
In a recent blog post, Microsoft announced several new commitments to protect voters, candidates, campaigns, and electoral authorities in the lead up to anticipated contentious elections in 2024.
A key new offering is Content Credentials as a Service, which allows campaigns to digitally sign and verify the provenance of media using digital watermarks from the Coalition for Content Provenance and Authenticity (C2PA). These credentials can demonstrate if an image or video was altered after creation.
The service enables campaigns to assert when AI may have been misused to distort their messaging. It launches in Spring 2024 as a private preview for political campaigns.
Microsoft is also providing direct cybersecurity guidance to campaigns through a new Campaign Success Team. The team will advise clients on combatting misinformation and protecting their brand authenticity.
Additionally, Microsoft is creating an Election Communications Hub to swiftly aid election authorities that encounter security issues leading up to voting. This hub will provide election authorities with access to Microsoft security and support teams in the days and weeks leading up to their election, allowing them to reach out and get rapid-response support if they run into any major security challenges.
To provide voters with reliable election information, Bing search will collaborate with trusted news sources to deliver authoritative election, and partner with nonprofits to promote credible news dissemination.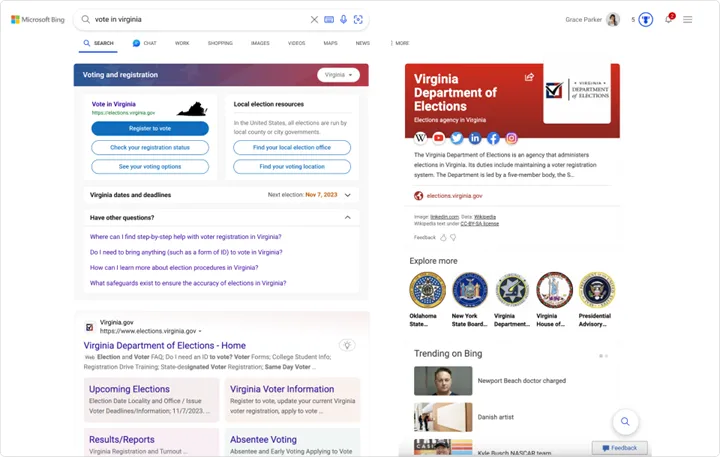 Legislative advocacy also plays a role in Microsoft's comprehensive approach, with the company endorsing the "Protect Elections from Deceptive AI Act" in the U.S., a bipartisan effort to curb AI-generated disinformation targeting federal candidates.
Through multi-pronged steps like content authentication and partnerships, Microsoft aims to promote secure and trustworthy elections. However, the company noted no single solution can fully guarantee electoral integrity and urged collaborative action across sectors.