Yahoo is doubling down on AI enhancements for its email service, announcing new tools aimed at saving users time and money. The highlight is an AI-powered "Shopping Saver" feature in Yahoo Mail that helps users take advantage of forgotten gift cards, credits, and discount codes after making purchases.
Expanding on an existing AI beta experience, Yahoo stated the updates utilize technology from Google Cloud to deliver more intuitive, personalized experiences. Along with Shopping Saver, Yahoo Mail's AI capabilities now include expanded writing assistance for suggesting email replies, summarized overviews of messages, and "smarter" search functions.
According to Yahoo senior VP Josh Jacobson, U.S. consumers have over $23 billion in unused gift cards and credits. Shopping Saver taps into this by scanning users' inboxes, identifying potential savings, and drafting requests to apply them post-purchase. For example, if you bought something online but forgot to add a gift card, Shopping Saver would notify you and help email the retailer to retroactively apply the credit.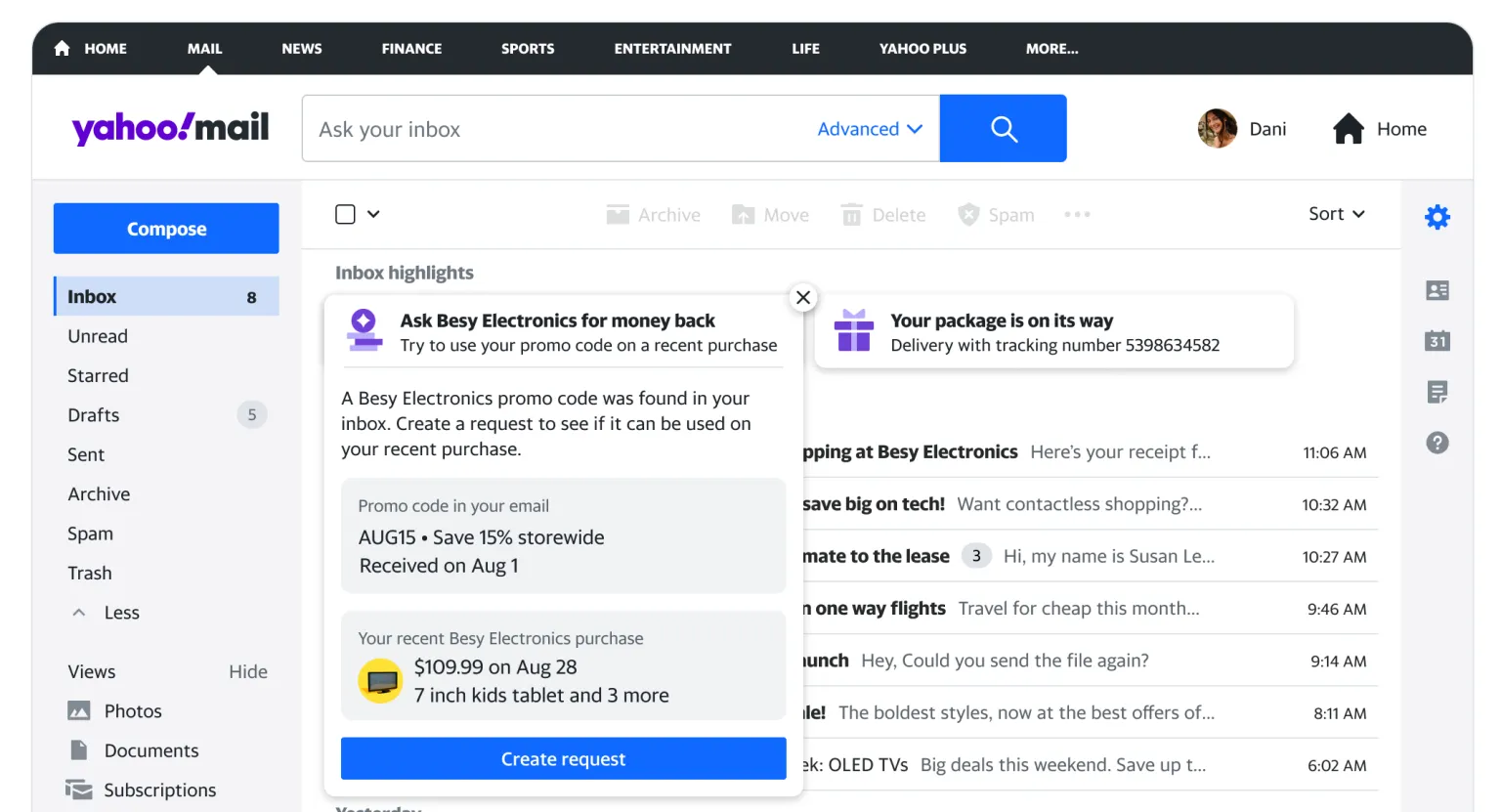 While not guaranteed to work, given most retailers require discounts applied during checkout, Yahoo is hopeful the tool will help users "gain a fraction" of unused credits back. Early feedback will likely determine if retailers accommodate such requests.
Other major tech companies have already begun exploring using AI to improve the online shopping experience. Both Google and Microsoft have recently debuted new AI-powered shopping experiences in Google Search and Bing. Microsoft has gone one step further to build shopping features directly into its Edge browser that helps users find coupons, discounts, and cash back offers on just about anything. However, if you forget to use a discount code, Yahoo's solution is certainly worth a try.
Beyond shopping, Yahoo Mail's AI advancements aim to streamline the inbox experience. The Writing Assistant now recognizes infinite tones for suggested email replies versus just two previously. It analyzes chains to mimic the user's unique voice. Search has added filters and "common questions" to quickly find results. Message Summary condenses long emails into digestible overviews highlighting key details.

For Yahoo, the updates represent strides toward a truly "assistive" inbox. And for users, the AI features could save precious time and recoup hard-earned money otherwise left on the table. The question remains whether the tools will catch on or be considered gimmicks. But in an age of inbox overload, any AI that cuts through the noise merits a closer look.