At its annual MAX conference, Adobe unveiled several highly anticipated upgrades to its suite of Firefly generative AI models, bringing more advanced capabilities and greater creative control to users.
Since its beta launch in March, Adobe's Firefly has rapidly emerged as the frontrunner in AI image generation for safe commercial use, with users producing over 3 billion images worldwide. The tools intuitive design allows users at all skill levels to craft images simply from text prompts.
Incorporated into multiple platforms, Firefly is now accessible via Photoshop, Illustrator, Adobe Express, and its dedicated web app. Catering to a global audience, the model now recognizes text prompts in over 100 languages, and the web app supports 20 languages with expansions planned.
The highlight of the Firefly reveals today is the launch of the new Adobe Firefly Image 2 model, now in beta. Built with increased model capacity, Firefly Image 2 significantly improves image generation quality and speed compared to the original model. Users can easily toggle between Image 1 and Image 2 within the Firefly web app to compare outputs.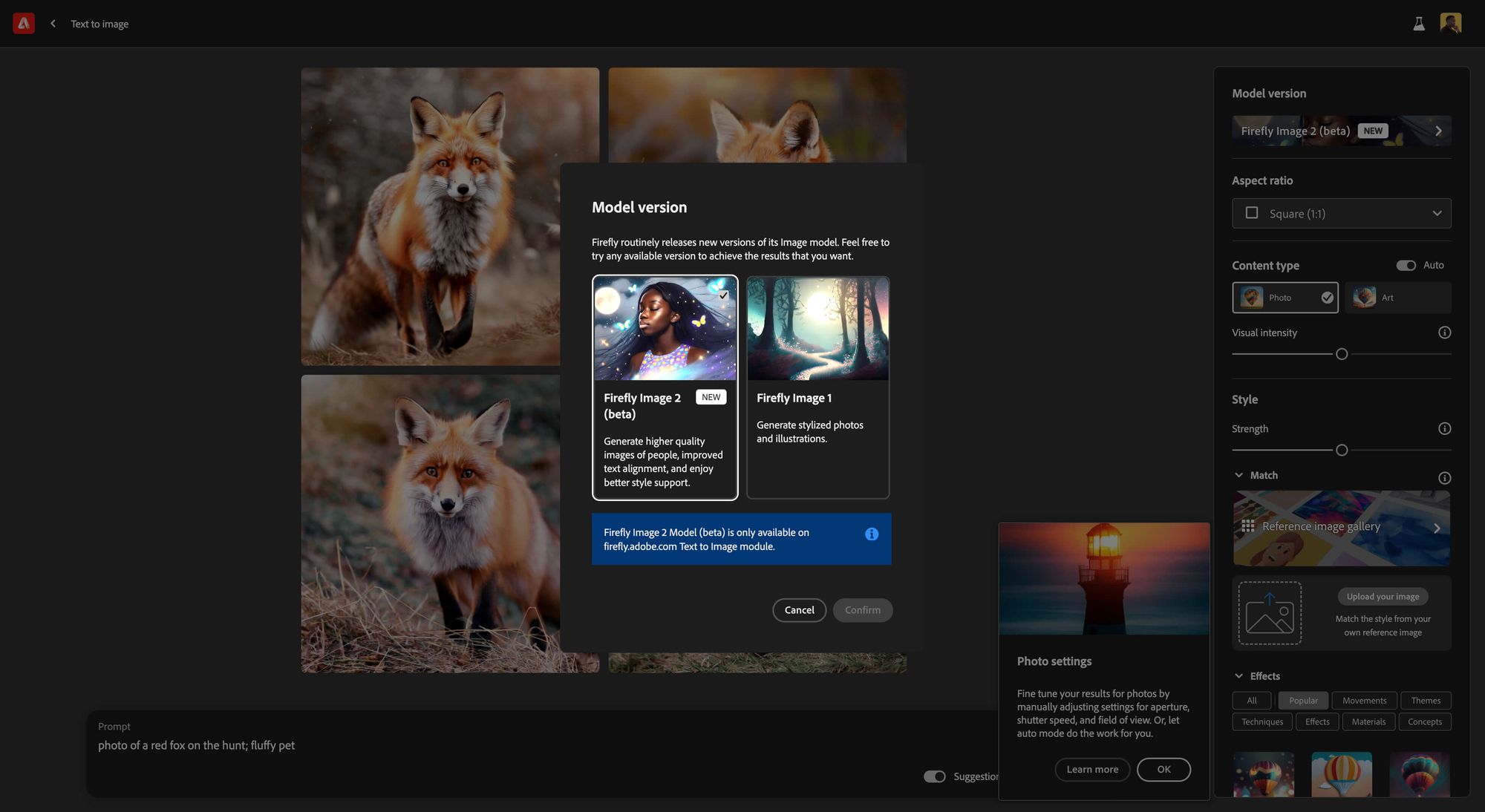 Complementing the new model is a series of enhanced Text to Image features, also in beta. Here is how Adobe describes each: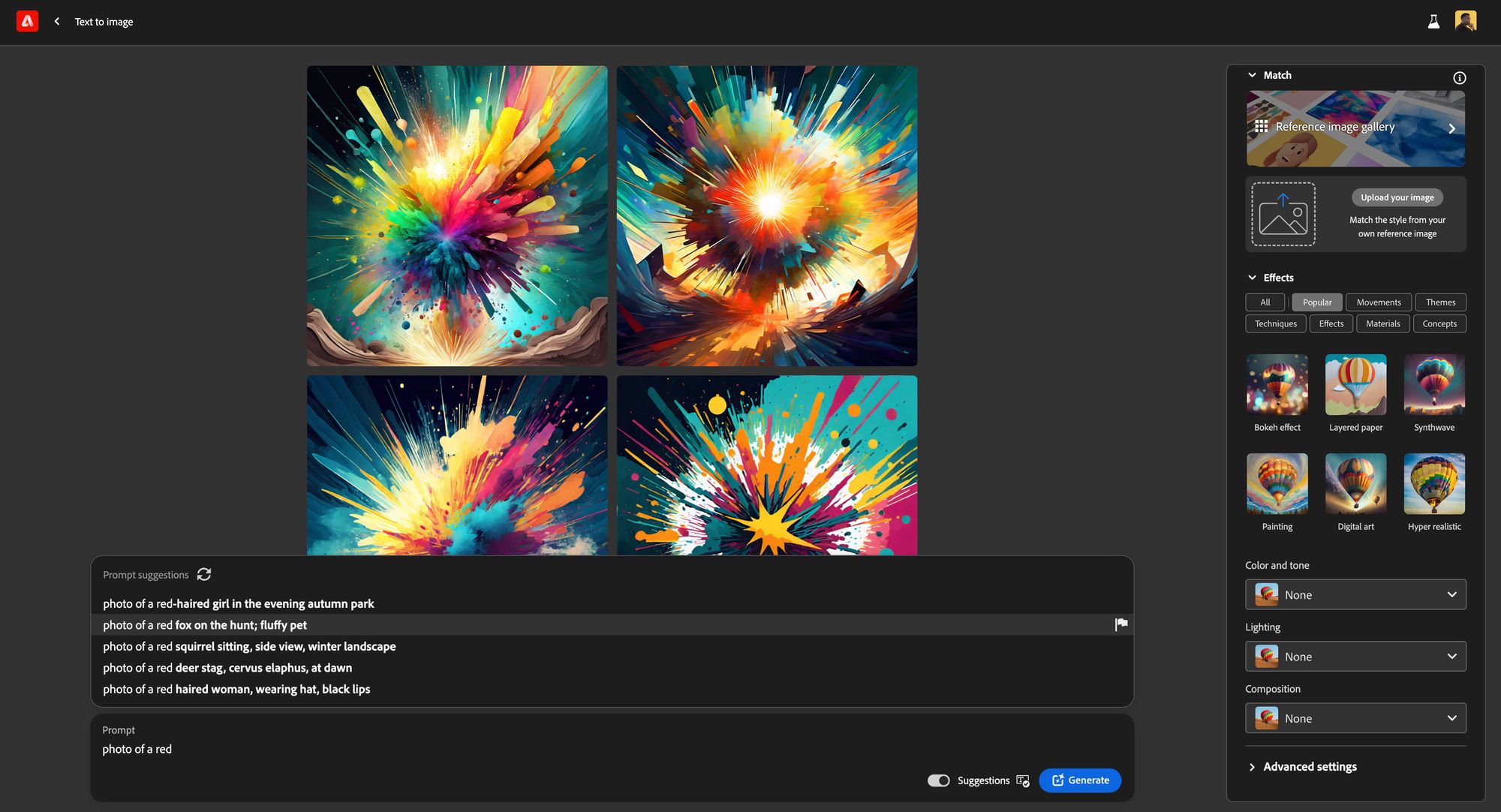 Prompt suggestions are available in the Text to Image feature and help you auto-complete your (English-only) prompts to generate content that aligns with your vision. They can recommend ways to expand your prompt to take your images in different creative directions.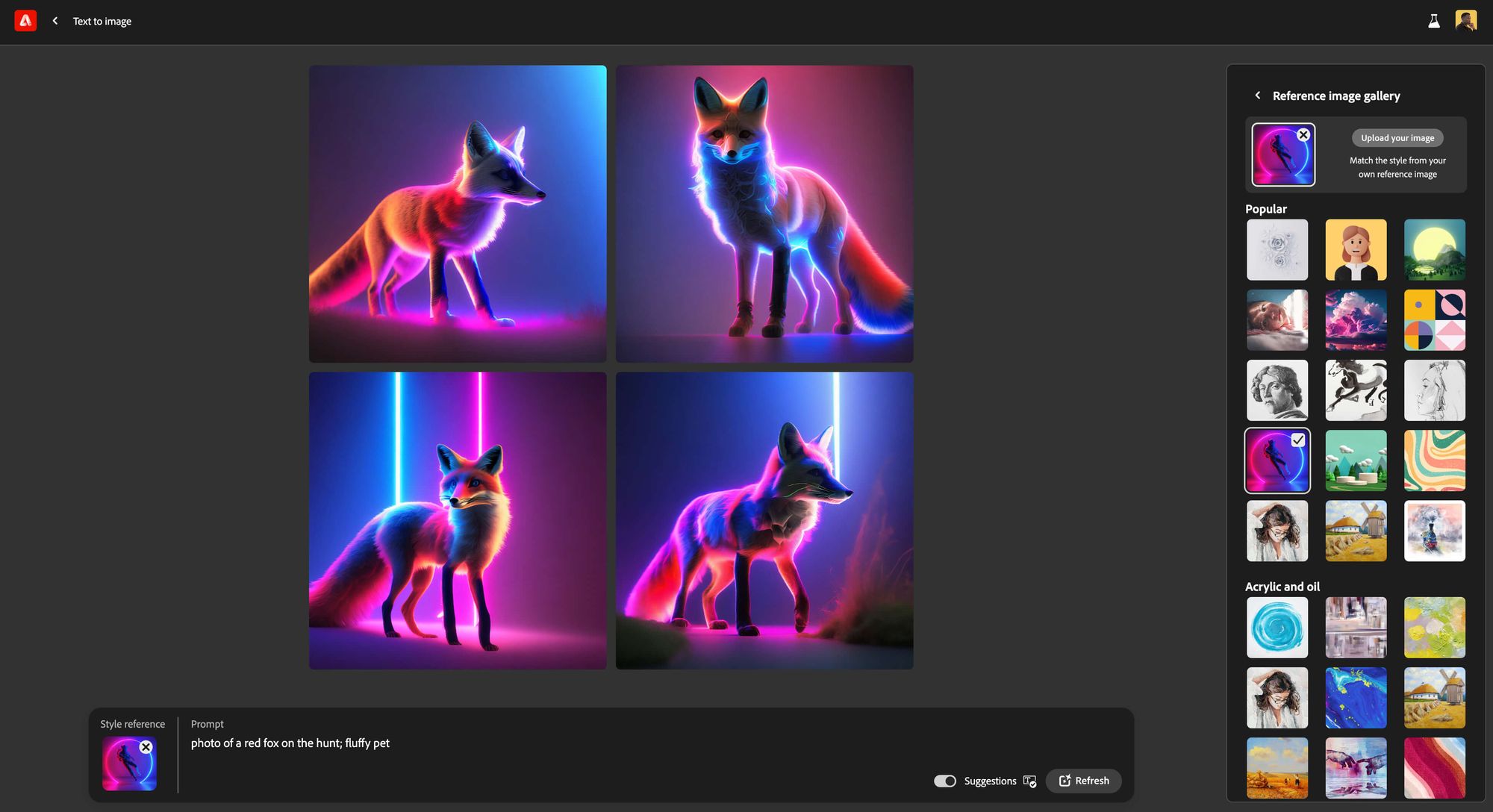 Use Generative Match to generate images based on the look and feel of an existing image and create images with a consistent style. It takes the style from a reference image and applies it to your generated Firefly images. You can choose from a wide variety of curated style images in the Firefly Control Panel or upload your own image. Reference style images can be found in a wide variety of categories, including Abstract, Photorealistic, and Illustration.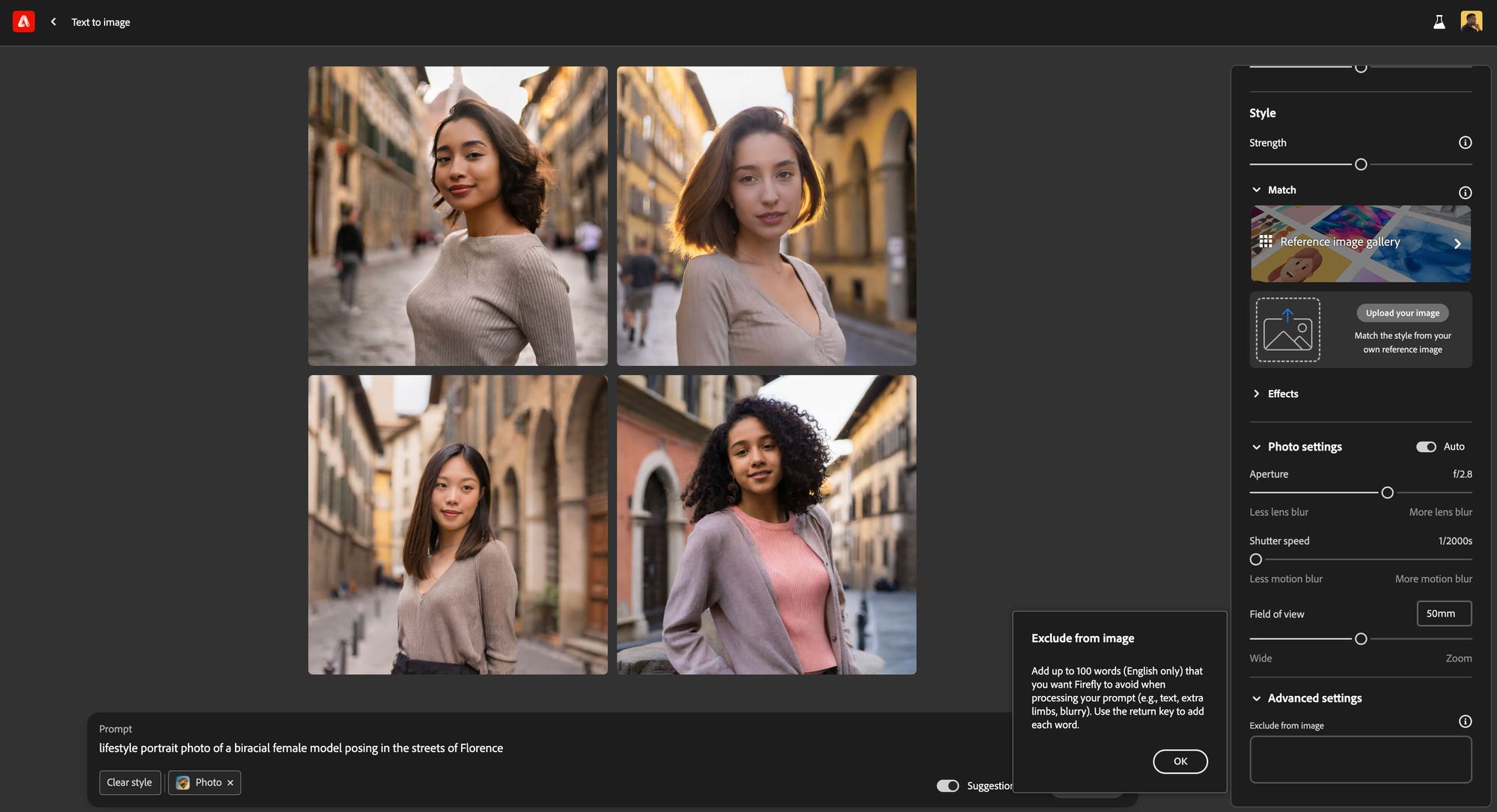 Use Photo Settings for more creative control with the ability to adjust the settings of a generated photo. You can change photo parameters like you would with a real camera photograph: aperture, shutter speed, and field of view. Additionally, Use negative prompts for more control over the final outputs by instructing Firefly to leave out specific elements while processing your prompt in the Text to Image feature. For example, colors, shapes, etc. You can enter up to 100 words (English only) to be excluded from the generated images.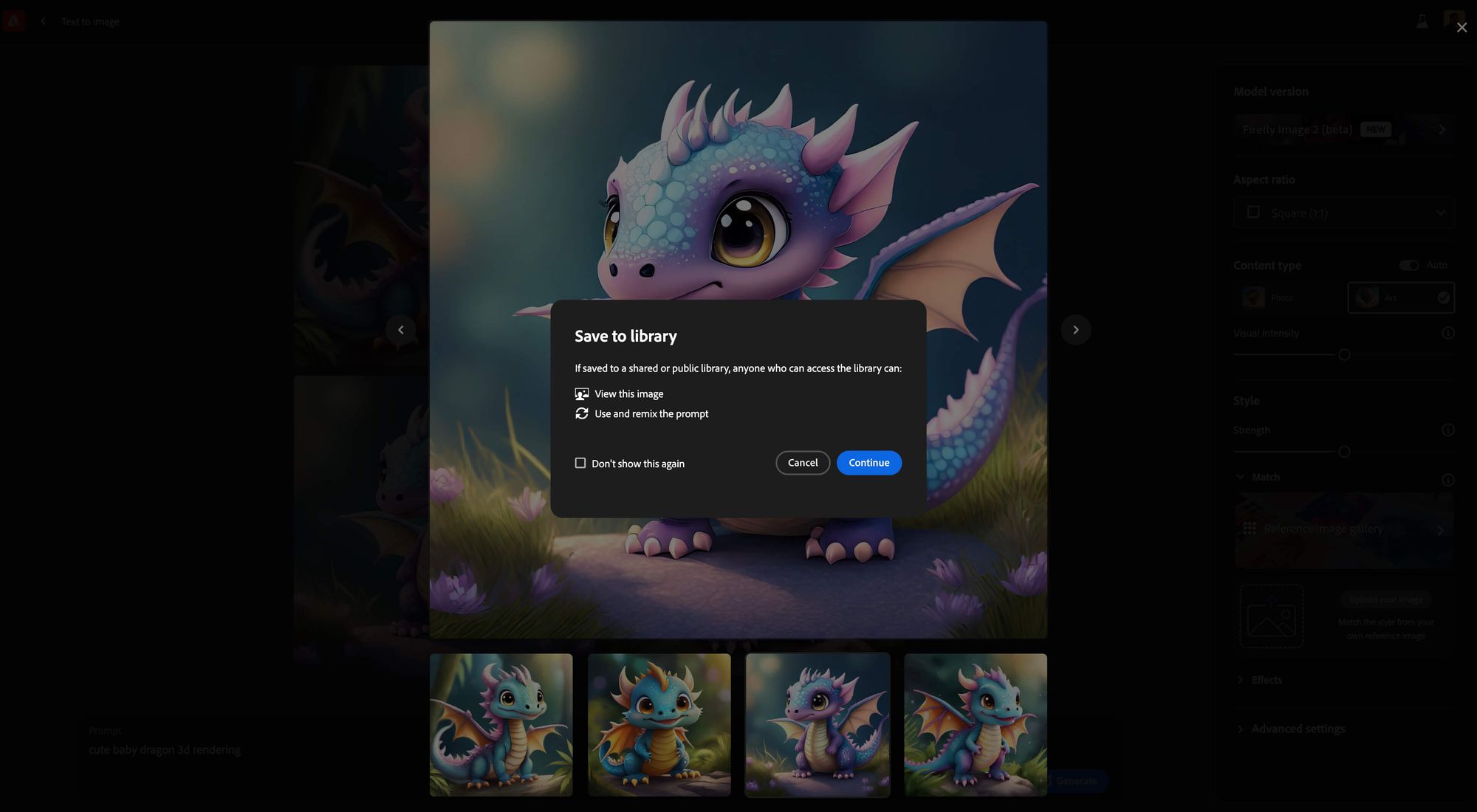 Save your images generated using Text to Image and Text Effects to Creative Cloud Libraries. This facilitates collaboration by allowing others to remix work.
Adobe's latest Firefly updates showcase how generative AI can expand creative possibilities when thoughtfully implemented with intuitive interfaces and user experiences. The company's AI strategy reflects their decades of experience building industry-leading tools for creative professionals. In the end, Adobe's approach leaves many creatives feeling more empowered rather than threatened by AI.
This will likely be a major competitive advantage against tools like Midjourney and DALLE-3 that operate primarily inside chat interfaces and don't integrate well with existing tools and production workflows.